Posts tagged
lung cancer
By Taran Adarsh, August 27, 2010 – 08:17 IST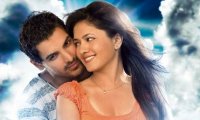 Practically every new-age film-maker wants to attempt a real story on celluloid. Stories which are straight out of life/newspapers/news channels. These stories, generally, strike a chord with the ticket buying audience if narrated convincingly and most importantly, narrated within commercial parameters.
Nagesh Kukunoor has been a frontrunner as far as choosing and narrating real stories are concerned. AASHAYEIN too seems like 'our' story. Here's a man who suddenly discovers that he has a few months to live. The indomitable spirit of living life to the fullest, under all circumstances, is what you expect from him. But AASHAYEIN gets so bizarre and abstract that you feel anesthetized after a point. Sadly, you don't react to the characters, you don't react to the film either.
Like Kukunoor's previous attempts, AASHAYEIN is sensitively told and has several poignant and heart wrenching moments, but the story strays from realism and ends up being a fantasy, which leaves a sour taste in your mouth. The entire RAIDERS OF THE LOST ARK track, with John imagining himself in Harrison Ford's boots, is weird.
Final word? AASHAYEIN just doesn't meet the aashayein [hopes] of the viewer.
At a party to celebrate his big win at gambling, Rahul [John Abraham] proposes to his girlfriend Nafisa [Sonal Sehgal]. Within minutes of announcing his engagement, he collapses on the floor. After a medical diagnosis, Rahul discovers that he has only a few months left to live. He is diagnosed with lung cancer.
A distraught Rahul learns of a hospice and without sounding off his girlfriend about it, packs his bags and leaves in the middle of the night. He meets a number of people at the hospice, who may have failing health, but unfailing spirit.
For millions of viewers worldwide, Hrishikesh Mukherjee's classic ANAND [Rajesh Khanna, Amitabh Bachchan] remains one of the best films on the matchless spirit of a person diagnosed with a terminal illness. The person in question [Rajesh Khanna] knows he doesn't have much time on hand and decides to spread light and cheer all around.
Though AASHAYEIN has nothing to do with ANAND [although there's a reference to the film], the least Kukunoor could've done was to narrate the story without getting into the fantasy zone. When you talk of matters as serious as death, when you show people spending their last days in a hospice, you can't deviate from the topic. Even the hospice here looks more like a small-town resort where people have come for a vacation. The seriousness is clearly missing!
On the brighter side, the sequences between John and Anaitha Nair are wonderful. Ditto between John and Farida Jalal. Salim-Sulaiman's music is in sync with the mood of the film. The song filmed on Shreyas Talpade is the pick of the lot. Sudeep Chatterjee's camera captures the outdoors well. But the writing is imprecise and like I pointed out at the outset, the culmination to this story is difficult to decipher.
Kukunoor is a master when it comes to extracting performances and AASHAYEIN also boasts of sparkling performances by each and every member of the cast. John puts a whitewash on his previous works and comes up with an honest and sincere performance. In fact, this film makes you forget that he's blessed with a striking personality. Instead, you notice the fine actor beneath the good looks and that's what makes you relate to this character for most parts.
Anaitha Nair is pure dynamite. Fiery, feisty, someone who can light fire in water. She's sure to make people notice her talent after this film. Sonal Sehgal is efficient. Girish Karnad, Farida Jalal and Prateeksha Lonkar are perfect. Ashwin Chitale [as Govinda] is natural to the core. Vikram Inamdar [as Xavier, John's friend] is alright. Sonali Sachdev [Doctor] is adequate. Shreyas Talpade appears in a song.
On the whole, AASHAYEIN falters and fails on the writing level. Not much aasha [hope] from AASHAYEIN. Nonetheless, the film has been made on a shoe-string budget and therefore, the recovery from non-theatrical avenues would keep its distributors safe, although the returns from theatrical business would be disastrous.
aashayein
,
abstract
,
Amitabh Bachchan
,
anaitha nair
,
Anand
,
ashwin chitale
,
bizarre
,
Bollywood
,
bollywood hungama
,
distributor
,
doctor
,
engagement
,
fantasy
,
farida jalal
,
Fenil
,
gambling
,
girish karnad
,
govinda
,
harrison ford
,
hospice
,
hrishikesh mukherjee
,
John Abraham
,
lung cancer
,
movie review
,
movie review aashayein taran adarsh
,
nafisa
,
Nagesh Kukunoor
,
Rahul
,
RAIDERS OF THE LOST ARK
,
rajesh khanna
,
resort
,
salim-sulaiman
,
sensitive
,
shoe-string budget
,
shreyas talpade
,
SONAL SEHGAL
,
sonali sachdev
,
spirit
,
sudeep chatterjee
,
taran adarsh
,
theatrical business
,
vacation
,
vikram inamdar
,
xavier
We all have our own wishes and desires and patiently wait for the day when they will all come true. We slowly and steadily also work towards fulfilling them. But what if one day you discover that you have just few days to live? What will be the state of our near and dear ones? How will they survive once we have left for heavenly abode? And not to forget, what about our dreams that we had patiently nurtured over the years?
Aashayein
takes a look at this issue where a terminally ill patient tries to find purpose and hope in his last few days. Although there have been films that have dealt with a more or less similar issue in the past and are very close to our hearts (
Anand, Kal Ho Naa Ho, Dasvidaniya
), Aashayein still succeeds in many ways and touches a chord. Unfortunately, at the same time, the film falters which prevents it from becoming a classic.
The story of the movie: Rahul (John Abraham) is a compulsive gambler and a chain smoker. One day he succeeds in winning a huge amount in gambling and throws a party to celebrate. In the party, he proposes marriage to his longtime girlfriend Nafisa (Sonal Sehgal). However, immediately after doing so, he collapses. After a medical checkup, the results are out-he has lung cancer and only a few months to live. He is obviously shocked and then decides to shift to a hospice without telling anyone about his whereabouts. It is here at the hospice that he learns some lessons of life.
Aashayein begins well and grips your attention immediately. Rahul's conversation with the doctor who was talking in circles about the former's medical condition was brilliant to say the least! The film goes even higher as soon as Rahul lands at the hospice. The bond that he forms with 17 year old Padma (Anaitha Nair) which was the best part of the story, and Madhu (Farida Jalal) will put a smile on your face! Especially his relation with Padma was damn interesting and fresh-something shown rarely in our cinema.
However, the second half turns quite dragging and the film seems like 3 hrs+ when the actual duration of the movie is just 1 hrs 45 mins! The Indiana Jones track could have been little simplified, keeping in mind that the film is made for Indian viewers. Also, adding a dose of fantasy in such kind of a film was an experiment that succeeds only partly! By the time the film reaches finale, the interest that was so nicely generated by the initial scenes mostly dies down.
The film belongs to John Abraham
! The dashing actor again comes up with a bravura performance! Moviegoers may not have liked him in his earlier film but they'll surely love him in Aashayein! John wonderfully plays his part of a terminally ill patient which looks damn convincing! Watch out for the scene where he's violently coughing…it just shakes you! And not to forget, he looks awesome in the Indiana Jones get up! Bravo Johnny Boy!
Anaitha Nair is the surprise package of the film! She just stunts with her incredible performance! Her chemistry with John was too good! Your heart goes for her! Surely one of the finest performances in this year! Sonal Sehgal looks extremely beautiful and lends able support. Girish Karnad was good but disappears in the middle portions. Ashwin Chitale (as Govinda) has an important part to play in the 2nd half and does well. It was good to see Farida Jalal in an A-grade film after a long time! Prateeksha Lonkar (Sister Grace) and Vikram Inamdar (John's buddy) do a great job. Others were fairly good.
Salim-Sulaiman's music suits the mood and theme of the film. 2 songs which stand out are Ab Mujhko Jeena and Chala Aaya Pyaar. Their background score enhances impact in many scenes. Sudeep Chatterjee's cinematography was excellent and captures the locales of Pondicherry exceptionally!
Nagesh Kukunoor, after giving 2 duds (Bombay To Bangkok, 8×10 Tasveer) comes up with a film that was better than these disasters but not as good as his classics (Iqbal, Dor). The plotline was little abstract at places. However, still it could have been an interesting film had Kukunoor not dragged the film and simplified some scenes. Overall, a nice experiment and hoping to see him back in form in his next!
Some of the best scenes:
1.       Rahul finds he has lung cancer
2.       Rahul leaves for the hospice
3.       Rahul befriends Madhu and Padma
4.       Rahul and Padma watching Anand
5.       The intermission point
6.       The Indiana Jones track (little weird but very well shot!)
7.       Rahul takes Padma on a date
8.       Padma at the deathbed
On the whole, Aashayein is a fairly okay film. It has a nice thought but tends to get too dragging because of which the impact withers away. However, it's surely a must watch for all John Abraham fans!
My rating- ** ½ out of 5!
1 hrs 45 mins
,
3 hours
,
8x10 tasveer
,
aashayein
,
ab mujhko jeena
,
anaitha nair
,
Anand
,
ashwin chitale
,
Bollywood
,
bombay to bangkok
,
chain smoker
,
chala aaya pyaar
,
compulsive gambler
,
cough
,
Dasvidaniya
,
deathbed
,
desire
,
dor
,
fantasy
,
farida jalal
,
Fenil
,
fenil seta
,
gambling
,
girish karnad
,
govinda
,
heavenly abode
,
hospice
,
indiana jones
,
iqbal
,
John Abraham
,
Kal Ho Naa Ho
,
lung cancer
,
madhu
,
marriage
,
movie review
,
movie review aashayein fenil seta
,
nafisa
,
padma
,
pondicherry
,
prateeksha lonkar
,
propose
,
Rahul
,
salim-sulaiman
,
second half
,
sister grace
,
SONAL SEHGAL
,
sudeep chatterjee
,
terminally ill
,
vikram inamdar
,
wishes