Posts tagged
kajol
By Subhash K. Jha, September 3, 2010 – 11:42 IST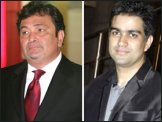 Since Siddharth Malhotra's mentor and role-model Kajol is on maternity leave, the director is looking at casting his best friend Shahid Kapoor in his next film.
Shahid has been Siddharth's best friend for years. The star watched the debutant director's film at a special screening on Wednesday.
Says Siddharth, "I was waiting for Shahid to watch it. He has been my best friend for years. He watched it along with Sooraj Barjatya and Raju Hirani. Shahid absolutely loved my film."
That's the kind of love and loyalty Siddharth believes in. A self-declared Kajol bhakt he is ready to go to any lengths to be loyal to his muse and guardian angel Kajol.
After keeping a life-long mannat for Kajol agreeing to do his first film, Siddharth has now gone a step further. He has postponed his next film with Kajol in the lead because of the actress' impending motherhood.
Kajol intends to take at least one full year off before returning to acting. Rather than cast someone else in the role that was written especially for Kajol, Siddharth has now decided to make another film next.
The director's next would be a father-daughter family-comedy featuring Rishi Kapoor as the father. The daughter is yet to be cast. But the buzz is that Siddharth wants to create cinematic history by casting Rishi's niece Kareena as his daughter.
Confirming these developments Siddharth Malhotra says, "I did want to make my film with Kajol next. But she won't be doing any film for a year and a half. So I'm making a family comedy. I've completed this other script. Rishi Kapoor plays father to a much younger girl. I'll make this family comedy before my film with Kadz."
Siddharth has had a family screening of We Are Family. Karan Johar is apparently so proud of his protégé that he has agreed to let Siddharth make whichever film he wants to next.
Shahid and Siddharth have been best friends since the time Shahid starred in Sooraj Barjatya's Vivah.
Recalls Siddharth, "I was the associate director of Vivah. Shahid and I have been close since then. Now we're even closer. I really value his judgement."
About casting Shahid in his Rishi Kapoor film, Siddharth Malhotra says, "I don't want to commit myself to casting Shahid until Karan Johar reads my script. But I know one thing. I'll present Shahid like no one else."
BOLLYWOOD HUNGAMA.COM