Posts tagged
HUM AAPKE HAIN KOUN
By Taran Adarsh, September 8, 2010 – 15:04 IST
The fight between good and bad has been the fodder of many a Hindi film of 1970s and 1980s. In fact, it wouldn't be erroneous to state that these films dominated the cinema of yore and a lot of us, who have grown up on masala films/wholesome entertainers, will vividly recall the serpentine queues outside cinema halls and a mad scramble to book the tickets of those films. Hardcore masala films were relished with glee by the audience then.
However, for some inexplicable reason, masala films became extinct or should I say, disappeared from the face of Hindi cinema over a period of time. GHAJINI and WANTED revived this genre, bringing back memories of the bygone era. Now DABANGG takes this genre one step ahead.
Be forewarned. DABANGG is rustic, has loads of action, harps on the age-old mother-son and varied relationships [half-brother, step-father], eventually turns into a vendetta fare, has a number of songs placed smartly in the narrative [including an item number]… but the packaging is slick and polished. Sure, it's old wine, but packed in a brand new bottle, with a new brand ambassador [Salman Khan] endorsing this masalathon.
Most importantly, it has Salman like never before. Breathing fire and venom, Chulbul Pandey aka Robinhood Pandey taps Salman's star power like no film has and the result is sheer magic. In fact, DABANGG stands on three pillars – Salman's star power, smashing stunts and super music.
Final word? Salman fans, rejoice! You walk in DABANGG with 100% expectations and you exit with 200% gratification. Entertainment guaranteed. This film will create a pandemonium of sorts, a mass hysteria, crushing old records and setting new benchmarks at the box-office.
Set in Uttar Pradesh, DABANGG is a story of Chulbul Pandey [Salman Khan], a totally fearless but corrupt police officer with unorthodox working methods. But even the most fearless at times face a tough fight with their innermost demons. Chulbul has had a bitter childhood. His father passed away when he was very young, after which his mother [Dimple Kapadia] married Prajapati Pandey [Vinod Khanna]. Together, they had a son Makhanchan [Arbaaz Khan].
Prajapati favors Makhanchan, which does not go down well with Chulbul. He decides to take control of his destiny and detaches himself from his step-father and half-brother. His sole attachment is his mother. However, after his mother's demise and an unsuccessful attempt to mend wounds, Chulbul snaps all ties with his step-father and half-brother.
Rajo [Sonakshi Sinha], with her unique perspective of life, enters his world and turns life upside down. Chulbul starts to see life more positively and also gets sensitized to the value of a family. But his detractors, especially the dubious Cheddi Singh [Sonu Sood], have their own vested interests and emerge as spokes in the wheels, putting one brother against the other. Makhanchan ends up carrying out an act oblivious to the consequences.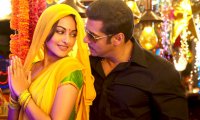 When Makhanchan realizes he has been used, he turns to Chulbul. Will Chulbul take his extended hand? Will the brothers be able to thwart their detractors?
The job of a promo is to give a gist of the film and prepare the audience well in advance about what to expect when they saunter into an auditorium. The promos of DABANGG have sent the right signals to the audience about it being a paisa vasool entertainer. Let's face it, DABANGG has nothing ground-breaking to offer as far as its plot is concerned. We've visited similar stories in the past, but what makes DABANGG shine, and shine brightly, is Salman's star power, which camouflages the aberrations wonderfully. The darling of the masses has been cast in a role that his fans love to see him in, which explains why this film works from start to end.
Like I pointed out earlier, DABANGG is special for two more reasons: S. Vijayan's stunts and Sajid-Wajid's music, with an additional song by Lalit Pandit. Talking of action scenes, Salman's introduction at the start and the fight-to-finish in the climax will send the masses in frenzy. To state that the action scenes are outstanding, especially the fight in the finale, would be an understatement. In the finale fight, when Salman's shirt tears apart and the rippling muscles and the bare-chest fight ensues, mark my words, it will lead to chaos at mass-dominated centres, especially at single screens. The climax will be one of the prime reasons for repeat viewing, for sure.
It's difficult to accommodate music in an action film, but Sajid-Wajid come up with a melodious score. The title track, 'Tere Mast Mast Do Nain' and 'Munni' [composed by Lalit Pandit] are the icing on the cake.
Director Abhinav Singh Kashyap is in his element. He's made an out and out entertainer with an eye at the masses and he succeeds in his endeavour. Doing justice to vintage formula is no cakewalk, let's not forget. Besides, the director stays away from going overdramatic while handling the dramatic and emotional moments. This explains why you don't exit the theatre with a spinning head. Mahesh Limaye's cinematography is perfect. I'd like to make a note of the editing [Pranav V. Dhiwar], which is super-slick in action scenes. Dialogue, especially those delivered by Salman, will be greeted with claps and whistles. Especially the one 'Itne chhed karunga'.
Salman Khan is the boss, when it comes to playing to the masses. This film reaffirms this truth. The role provides him ample opportunity to prove his star power and he does it with remarkable ease. Let me put it on record. DABANGG is yet another landmark film in his career, besides MAINE PYAR KIYA, HUM AAPKE HAIN KOUN, JUDWAA [tapping the funny side], TERE NAAM [tapping the emotional side] and WANTED.
Sonakshi Sinha looks fresh, acts confidently and pairs off very well with Salman. Most importantly, she delivers the right expressions and is not overpowered by the galaxy of stars in the cast. Arbaaz Khan is efficient. He underplays his part well. Sonu Sood is electrifying, matching up to Salman at every step. In fact, the fight in the finale between Salman and Sonu is awe-inspiring.
Vinod Khanna is excellent in a role that has grey shades. Dimple Kapadia is truly wonderful. Anupam Kher is, as always, good. Ditto for Om Puri. Mahesh Manjrekar doesn't get ample scope. Mahi Gill is alright. Tinnu Anand is effective. Murli Sharma is nice. Malaika Arora Khan sizzles in the 'Munni' track.
On the whole, DABANGG is a full on entertainer with three aces – Salman Khan like never before, stylish action and super music. It's a foregone conclusion that DABANGG will open huge. As far as the business prospects are concerned, the film will set new benchmarks, so much so that DABANGG will be one of the yardsticks to gauge the level of business in times to come. Sure to fetch an earth-shattering opening, the film will create a pandemonium at the box-office, cementing the status of Salman Khan as the darling of the masses and making the distributors laugh all the way to the bank. It has Blockbuster written all over it!
abhinay singh kashyap
,
action
,
ANUPAM KHER
,
arbaaz khan
,
blockbuster
,
Bollywood
,
chulbul pandey
,
corrupt
,
dabangg
,
earth-shattering opening
,
Fenil
,
ghajini
,
half brother
,
HUM AAPKE HAIN KOUN
,
Judwaa
,
Lalit Pandit
,
mahesh limaye
,
Mahesh Manjrekar
,
mahi gill
,
maine pyar kiya
,
makhanchan
,
malaika arora khan
,
masala films
,
mother-son
,
movie review
,
movie review dabangg taran adarsh
,
munni
,
MURLI SHARMA
,
om puri
,
police officer
,
prajapati pandey
,
pranav dhiwar
,
rajo
,
robinhood pandey
,
rustic
,
s vijayan
,
sajid-wajid
,
Salman Khan
,
sonakshi sinha
,
songs
,
Sonu Sood
,
step-father
,
taran adarsh
,
Tere Mast Mast Do Nain
,
Tere Naam
,
tinnu anand
,
uttar pradesh
,
vendetta
,
Vinod Khanna
,
Wanted
By Taran Adarsh, September 25, 2009 – 11:54 IST
Let's come to the point straight away. When you've films like LAGAAN, SWADES and JODHAA AKBAR to your credit, every step you take, every move you make comes under a microscopic view. Naturally then, the expectations from Ashutosh Gowariker's WHAT'S YOUR RAASHEE? are monumental.
There's another reason why WHAT'S YOUR RAASHEE? is special. Casting the same actor in 12 different roles is nothing short of a challenge – for the film-maker, for the writer and also for the actor in question.
Now let's analyze. WHAT'S YOUR RAASHEE? works in parts. There are 12 raashees, which means 12 independent stories, plus there's a story of the dulha [Harman Baweja] and his family as well, also there's a story of a family-friend [Darshan Jariwala] running concurrently. That makes it 14 stories, 13 songs, approx. 3.20 hours running time…
//
Now to the vital question: Does WHAT'S YOUR RAASHEE? work?
Let me answer this question by raising a vital point. Did the running time [of 3 + hours] of SHOLAY, HUM AAPKE HAIN KOUN, LAGAAN, JODHAA AKBAR and GHAJINI bother you? I am sure, it didn't. The problem with WHAT'S YOUR RAASHEE? is not its length/running time. The problem is its content.
If any film stands on a weak foundation [writing], even 1.30 hours seem never-ending. Conversely, if the writing is power-packed, even 3.30 hours of entertainment seems less. Let's not blame the length, for the biggest grosser of the world to date – TITANIC – also had a running time of 3.17 hours.
WHAT'S YOUR RAASHEE?, unfortunately, lacks the power to keep you hooked and that's the prime reason why its running time/length is sure to be criticised.
Oh yes, WHAT'S YOUR RAASHEE? has some wonderful moments and award-worthy performance[s] by Priyanka Chopra, but everything pales into insignificance when the written material is weak.
To cut a long story short, WHAT'S YOUR RAASHEE? is a king-sized disappointment from one of the finest storytellers of India.
WHAT'S YOUR RAASHEE? is the story of Yogesh Patel [Harman Baweja], a young man who, in his heart, has always wanted a love marriage. Till suddenly he is told that he must find his dream girl within ten days to save his family from utter ruin. Finding the dream girl is tough enough. Finding her in a hurry is even tougher.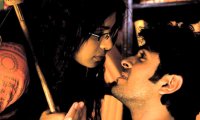 His solution is simple; he will meet one girl from each raashee – sun sign, as he feels that is the best way to make sure he finds a suitable wife, while also giving himself twelve chances to fall in love. Two meetings per day gives him six days to meet them, three days to make the final decision and he can get married on the tenth day, or so he thinks.
Based on the novel 'Kimball Ravenswood' by Madhu Rye, the concept of WHAT'S YOUR RAASHEE? is interesting, but the big screen adaptation isn't. To start with, you connect with barely a few stories, mainly the one who has a past and also the final one, of an underage girl. But several stories appear ridiculous and hence, ruin the impact generated by several wonderful moments. The jeweller's daughter, who believes in punar janam, falls flat. Ditto for the other jeweller's daughter, who pretends to be childish so as to test the intentions of the dulha. It's farcical. But the most ludicrous one is the businesswoman who has a pre-nuptial agreement in place, even before meeting the dulha.
Even Darshan Jariwala's track, towards the end specifically, tests the patience of the viewer. The detective drama is also ludicrous. Besides, the climax is far from convincing. The nanaji appears suddenly with a bagful of currency and the dues of the moneylenders and goons are settled soon after the saat pheras. How convenient!
Even the choice of the girl is debatable, since she has chosen him on a rebound [when she found that her lover was cheating on her]. In fact, the dulha had, rightfully, thought of the girl with the past and should've settled with her instead. That would've been a convincing finale.
Ashutosh Gowariker gets it wrong this time thanks to the poor screenplay. The writing is the biggest culprit here. Sohail Sen's music is easy on the ears, but why so many songs? A few songs can easily be deleted. Piyush Shah's cinematography is perfect.
WHAT'S YOUR RAASHEE? belongs to Priyanka Chopra. No two opinions on that. Words would fail to do justice to the remarkable portrayal of twelve different characters by this actor. This is her finest work to date. Harman is extremely likable and enacts his part with complete understanding. Darshan Jariwala is alright. Anjan Srivastava is as usual. Visshwa Badola is first-rate. Pratik Dixit does well.
On the whole, WHAT'S YOUR RAASHEE? is a king-sized disappointment.
1.30 hours
,
12 roles
,
13 songs
,
14 stories
,
3.17 hours
,
3.20 hours running time
,
anjan srivastava
,
Bollywood
,
bollywood hungama
,
content
,
darshan jariwala
,
dream girl
,
dulha
,
family-friend
,
Fenil
,
ghajini
,
harman baweja
,
HUM AAPKE HAIN KOUN
,
Jodhaa Akbar
,
kimball ravenswood
,
king-sized disappointment
,
lagaan
,
madhu rye
,
movie review
,
piyush shah
,
pratik dixit
,
priyanka chopra
,
sholay
,
sohail sen
,
swades
,
taran adarsh
,
titanic
,
visshwa badola
,
what's your raashee