Posts tagged
half brother
By Taran Adarsh, September 8, 2010 – 15:04 IST
The fight between good and bad has been the fodder of many a Hindi film of 1970s and 1980s. In fact, it wouldn't be erroneous to state that these films dominated the cinema of yore and a lot of us, who have grown up on masala films/wholesome entertainers, will vividly recall the serpentine queues outside cinema halls and a mad scramble to book the tickets of those films. Hardcore masala films were relished with glee by the audience then.
However, for some inexplicable reason, masala films became extinct or should I say, disappeared from the face of Hindi cinema over a period of time. GHAJINI and WANTED revived this genre, bringing back memories of the bygone era. Now DABANGG takes this genre one step ahead.
Be forewarned. DABANGG is rustic, has loads of action, harps on the age-old mother-son and varied relationships [half-brother, step-father], eventually turns into a vendetta fare, has a number of songs placed smartly in the narrative [including an item number]… but the packaging is slick and polished. Sure, it's old wine, but packed in a brand new bottle, with a new brand ambassador [Salman Khan] endorsing this masalathon.
Most importantly, it has Salman like never before. Breathing fire and venom, Chulbul Pandey aka Robinhood Pandey taps Salman's star power like no film has and the result is sheer magic. In fact, DABANGG stands on three pillars – Salman's star power, smashing stunts and super music.
Final word? Salman fans, rejoice! You walk in DABANGG with 100% expectations and you exit with 200% gratification. Entertainment guaranteed. This film will create a pandemonium of sorts, a mass hysteria, crushing old records and setting new benchmarks at the box-office.
Set in Uttar Pradesh, DABANGG is a story of Chulbul Pandey [Salman Khan], a totally fearless but corrupt police officer with unorthodox working methods. But even the most fearless at times face a tough fight with their innermost demons. Chulbul has had a bitter childhood. His father passed away when he was very young, after which his mother [Dimple Kapadia] married Prajapati Pandey [Vinod Khanna]. Together, they had a son Makhanchan [Arbaaz Khan].
Prajapati favors Makhanchan, which does not go down well with Chulbul. He decides to take control of his destiny and detaches himself from his step-father and half-brother. His sole attachment is his mother. However, after his mother's demise and an unsuccessful attempt to mend wounds, Chulbul snaps all ties with his step-father and half-brother.
Rajo [Sonakshi Sinha], with her unique perspective of life, enters his world and turns life upside down. Chulbul starts to see life more positively and also gets sensitized to the value of a family. But his detractors, especially the dubious Cheddi Singh [Sonu Sood], have their own vested interests and emerge as spokes in the wheels, putting one brother against the other. Makhanchan ends up carrying out an act oblivious to the consequences.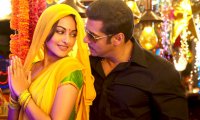 When Makhanchan realizes he has been used, he turns to Chulbul. Will Chulbul take his extended hand? Will the brothers be able to thwart their detractors?
The job of a promo is to give a gist of the film and prepare the audience well in advance about what to expect when they saunter into an auditorium. The promos of DABANGG have sent the right signals to the audience about it being a paisa vasool entertainer. Let's face it, DABANGG has nothing ground-breaking to offer as far as its plot is concerned. We've visited similar stories in the past, but what makes DABANGG shine, and shine brightly, is Salman's star power, which camouflages the aberrations wonderfully. The darling of the masses has been cast in a role that his fans love to see him in, which explains why this film works from start to end.
Like I pointed out earlier, DABANGG is special for two more reasons: S. Vijayan's stunts and Sajid-Wajid's music, with an additional song by Lalit Pandit. Talking of action scenes, Salman's introduction at the start and the fight-to-finish in the climax will send the masses in frenzy. To state that the action scenes are outstanding, especially the fight in the finale, would be an understatement. In the finale fight, when Salman's shirt tears apart and the rippling muscles and the bare-chest fight ensues, mark my words, it will lead to chaos at mass-dominated centres, especially at single screens. The climax will be one of the prime reasons for repeat viewing, for sure.
It's difficult to accommodate music in an action film, but Sajid-Wajid come up with a melodious score. The title track, 'Tere Mast Mast Do Nain' and 'Munni' [composed by Lalit Pandit] are the icing on the cake.
Director Abhinav Singh Kashyap is in his element. He's made an out and out entertainer with an eye at the masses and he succeeds in his endeavour. Doing justice to vintage formula is no cakewalk, let's not forget. Besides, the director stays away from going overdramatic while handling the dramatic and emotional moments. This explains why you don't exit the theatre with a spinning head. Mahesh Limaye's cinematography is perfect. I'd like to make a note of the editing [Pranav V. Dhiwar], which is super-slick in action scenes. Dialogue, especially those delivered by Salman, will be greeted with claps and whistles. Especially the one 'Itne chhed karunga'.
Salman Khan is the boss, when it comes to playing to the masses. This film reaffirms this truth. The role provides him ample opportunity to prove his star power and he does it with remarkable ease. Let me put it on record. DABANGG is yet another landmark film in his career, besides MAINE PYAR KIYA, HUM AAPKE HAIN KOUN, JUDWAA [tapping the funny side], TERE NAAM [tapping the emotional side] and WANTED.
Sonakshi Sinha looks fresh, acts confidently and pairs off very well with Salman. Most importantly, she delivers the right expressions and is not overpowered by the galaxy of stars in the cast. Arbaaz Khan is efficient. He underplays his part well. Sonu Sood is electrifying, matching up to Salman at every step. In fact, the fight in the finale between Salman and Sonu is awe-inspiring.
Vinod Khanna is excellent in a role that has grey shades. Dimple Kapadia is truly wonderful. Anupam Kher is, as always, good. Ditto for Om Puri. Mahesh Manjrekar doesn't get ample scope. Mahi Gill is alright. Tinnu Anand is effective. Murli Sharma is nice. Malaika Arora Khan sizzles in the 'Munni' track.
On the whole, DABANGG is a full on entertainer with three aces – Salman Khan like never before, stylish action and super music. It's a foregone conclusion that DABANGG will open huge. As far as the business prospects are concerned, the film will set new benchmarks, so much so that DABANGG will be one of the yardsticks to gauge the level of business in times to come. Sure to fetch an earth-shattering opening, the film will create a pandemonium at the box-office, cementing the status of Salman Khan as the darling of the masses and making the distributors laugh all the way to the bank. It has Blockbuster written all over it!
abhinay singh kashyap
,
action
,
ANUPAM KHER
,
arbaaz khan
,
blockbuster
,
Bollywood
,
chulbul pandey
,
corrupt
,
dabangg
,
earth-shattering opening
,
Fenil
,
ghajini
,
half brother
,
HUM AAPKE HAIN KOUN
,
Judwaa
,
Lalit Pandit
,
mahesh limaye
,
Mahesh Manjrekar
,
mahi gill
,
maine pyar kiya
,
makhanchan
,
malaika arora khan
,
masala films
,
mother-son
,
movie review
,
movie review dabangg taran adarsh
,
munni
,
MURLI SHARMA
,
om puri
,
police officer
,
prajapati pandey
,
pranav dhiwar
,
rajo
,
robinhood pandey
,
rustic
,
s vijayan
,
sajid-wajid
,
Salman Khan
,
sonakshi sinha
,
songs
,
Sonu Sood
,
step-father
,
taran adarsh
,
Tere Mast Mast Do Nain
,
Tere Naam
,
tinnu anand
,
uttar pradesh
,
vendetta
,
Vinod Khanna
,
Wanted
We all have certain likes, interests and capacity. We would like to excel professionally in a field of our interest. However, most of the times, parental expectations, societal norms and such other pressures compel us to nip our wishes in the bud and instead alter our career which might not suit our taste. Udaan tells a similar tale of a teen who is forced to work and study against his wishes and how he breaks free from the shackles. The film is very relatable and touching and so brilliantly executed that it easily turns out to be the most outstanding film in recent times. A film which that no one should miss at any cost!
The story of the movie: After getting expelled from the boarding school, Rohan (Rajat Barmecha) returns back to his hometown, Jamshedpur. He meets his strict, authoritarian father Bhairav (Ronit Roy) for the first time in 8 years. He reaches home and comes across his half brother Arjun (Aayan Boradia) who he didn't even know existed. Although Rohan wishes to take literature in college and become a writer, his father doesn't allow him to do so. He is forcefully enrolled in an engineering college and also forced to work in his father's steel factory. Will he toe the line or will the rebel in him break free and take his Udaan? Watch the film and find out!
Udaan begins with an extremely hilarious scene (Rohan and his pals going for semi-porn film) that brings the house down! It not only helps the story to progress but it also sets the viewers mood. Besides having a simple and a story that one can identify with, Udaan also works big big time because of the way it connects marvelously. You'll laugh uncontrollably in the comic scenes but at the same time you'll be pained terribly when you see the brothers in poignancy. And the best part is-since it's a simple tale, everyone will be able to understand and decipher the message of the film.
The story takes its own sweet time to proceed but one won't mind as there are a number of well-executed sequences that shall continue to linger in your mind for a long time to come. Rohan's bonding with his half-brother and chacha (Ram Kapoor) was very cute and his relation with his strict father was of course the important part which was sensitively treated. The climax was totally justified and hopefully, every section of moviegoing audience would accept it.
The film rests on four actors and they all excel. Debutant Rajat Barmecha, the protagonist, gives a stunning performance that'll leave you spellbound. This was a dream role for any newcomer and Rajat makes good use of it and comes out with flying colours. Watch out for him during the confrontational scenes and when he breaks down in front of Ram Kapoor and while talking to his friends on the phone! Here's a great actor and let's hope we see more of him in well-made films! Ronit Roy was awesome as the villainous father. It was great to see him on the big screen after a long time. Ram Kapoor, who did a great job in Karthik Calling Karthik, would be loved for his performance in this film. Simply a great job! And finally, Aayan Boradia leaves a deep impact with his cute facial expressions and eyes.
The rest of the actors do a great job too. Manjot Singh (last seen in 'Oye Lucky! Lucky Oye!') was absolutely rocking. Anand Tiwari (Apu), who played Robin in Kites, leaves a mark. The actors who played Rathore and the old man in hospital were marvelous. Others do a nice job.
Amit Trivedi's music was, as usual, melodious and soulful. Naav, Kuch Naya To Zaroor Hai and the title track were the best songs of the lot. An interesting song, Motu Master, is missing from the film. The background score was used very minimally but was effective. Mahendra Singh's cinematography was a bit innovative.
Dialogues were sharp and many of them leave a deep impact. Anurag Kashyap and Vikramaditya Motwane have written the story and screenplay and they surely deserve full marks. Story was brilliant and seemed to be inspired from personal experiences while the screenplay was terrific. Same goes for Motwane's direction. It is evident that he knew what he was doing and had done his homework well. The result is the most confident directorial debut in a long time, probably after Ayan Mukherjee (Wake Up Sid). A big thank you to Kashyap and Motwane for giving us this wonderful film!
Some of the best scenes:
1.       The first scene (hilarious!)
2.       Rohan meets his step brother for the first time
3.       Rohan and father at chacha's place
4.       First day of jogging
5.       Rohan gets new friends
6.       Drunk father talks to Rohan
7.       The entire hospital sequence
8.       Rohan talks to his school friends on phone
9.       Rohan asked to smoke
10.     The final 20 minutes
On the whole, Udaan is a beautiful touching tale that works big time. Besides giving a great message, it is an eye opener for many! It is really sad that the film failed to create excitement even trying its best. This is a film that shouldn't be missed at any cost. It is the best film of 2010 so far…need I say anything more?!
My rating-***** out of 5!

8 years
,
aayan boradia
,
Amit Trivedi
,
anand tiwari
,
anurag kashyap
,
apu
,
arjun
,
ayan mukherjee
,
background score
,
bhairav
,
boarding school
,
Bollywood
,
capacity
,
career
,
chacha
,
climax
,
dialogues
,
engineering college
,
eye-opener
,
Fenil
,
fenil seta
,
half brother
,
hospital
,
interest
,
jamshedpur
,
jogging
,
karthik calling karthik
,
Kites
,
Kuch Naya To Zaroor Hai
,
likes
,
mahendra singh
,
manjot singh
,
motu master
,
movie review
,
movie review udaan fenil seta
,
Naav
,
Oye Lucky Lucky Oye
,
parental expectations
,
rajat barmecha
,
ram kapoor
,
rathore
,
rebel
,
relatable
,
robin
,
Rohan
,
rohit roy
,
semi-porn film
,
smoke
,
societal norms
,
steel factory
,
teen
,
title track
,
touching
,
udaan
,
vikramaditya motwane
,
Wake Up Sid
The winning team of Dev. D — Anurag Kashyap, Vikramaditya Motwane and Amit Trivedi — returns with a sensitive tale
Harshada Rege | TNN (BOMBAY TIMES; June 20, 2010)
The winning trio behind the ultra stylised Dev. D returns to the big screen once again to recreate the magic with Udaan. We are talking about Anurag Kashyap, debutant director Vikramaditya Motwane and music director Amit Trivedi who have returned with a film about a young boy trying to achieve his goals. Presented by UTV Motion Pictures, Sanjay Singh and Anurag Kashyap Production's Udaan will release on July 16. But before that, the audience can get a peek into what's in store for them when the promos hit the air today.
While Anurag produced the film, this time around he handed the director's baton to Vikramaditya, who had co-written Dev. D with him. Says Vikram, "Being a director, Anurag knows the kind of freedom that a director needs and he gave me that. Also I have known him for many years and am extremely comfortable working with him." Amit Trivedi whose songs in Dev D rocked the music charts is also back with another great score here. Amit terms Anurag as his mentor. "I am here today because of him. He sent over the script of Udaan and I wanted to do it as soon as I read it. And it was easy to work with Vikram because he knew the kind of sound he wanted for the movie."
For Anurag working with Vikram and Amit is a joyride. "Vikram is someone who should have made a film before me. I had decided long back that the moment I am in a position to produce a film it will have Vikram as the director," says Anurag. Speaking about Amit, he says, "Amit has scored some great numbers and he doesn't have to prove himself to anyone. Be it him or Vikram, I gave them the freedom that I would want while making a film."
The movie is about Rohan, who after living in a boarding school for eight years, returns to Jamshedpur and finds himself closeted with an authoritarian father and a younger half brother who he didn't even know existed. Rohan is forced to work in his father's steel factory and study engineering against his wishes, but he tries to pursue his dream of becoming a writer. The movie, all set for its release in India, has already tasted success at various film festivals including Cannes, where it was the first movie to be invited in seven years. So how's Vikram dealing with the pre-release anxiety? "I am nervous, excited and I don't want to think about it," says the debutant director.
Amit Trivedi
,
anurag kashyap
,
authoritarian father
,
boarding school
,
Bollywood
,
Bombay Times
,
Cannes
,
Dev D
,
eight years
,
engineering
,
excited
,
Fenil
,
freedom
,
half brother
,
harshada rege
,
india
,
jamshedpur
,
july 16
,
june 20
,
music
,
nervous
,
pre-release anxiety
,
Rohan
,
sanjay singh
,
script
,
seven years
,
steel factory
,
TNN
,
udaan
,
udaan Vikramaditya Motwane Amit Trivedi anurag kashyap
,
UTV Motion Pictures
,
vikramaditya motwane
,
writer