Posts tagged
cameo
By Joginder Tuteja, September 16, 2010 – 12:25 IST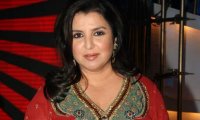 Believe it or Not?
Farah Khan, who has been known for taking her own sweet time to shoot for her films, has wrapped up the principal shoot of her upcoming film Tees Maar Khan in a mere 52 days. In fact only the much awaited 'qawalli' featuring Akshay Kumar, Salman Khan and Katrina Kaif is remaining to be shot, plans for which have already been base lined.
Says Farah, "I have to give it to Akshay for making it all possible. Trust me, if not for him, it would have been impossible for me to finish the film so fast. Tees Maar Khan is quite huge in scale and is a major film by all means. Films like these take time to shoot because of so much action and songs involved. Still, it is due to fast working style of Akshay that ensured that Tees Maar Khan was finished so soon."
Change of plan
In fact the story goes that original plan that was chalked down by Farah required at least 100 days. Past experience meant that Farah was conscious about the timeline for Tees Maar Khan as well. When she informed Akshay about her plan and asked for at least a 70 days commitment from him, he just laughed it all away.
"He asked me ki kya maine usse do movies ki shooting karwani hai", Farah smiles, "When I told him that I take time to make my films, he assured me that it won't be the case this time around. I was still nervous but looking at him work so fast in the first couple of days, I knew that I as well as my entire crew had to get into a super productive mode. In fact while the film was shot in 52 days, Akshay's portions were wrapped up in 45 days itself."
Early morning shoots
What enhanced this productivity was Akshay's working schedule which requires a day to begin at maximum by 8 AM. Since he is a morning person, he encouraged all to begin early and get more productive. This went quite well with Farah as well since she too is a morning person and hence together, their command to the entire unit was to pull up their socks and get started sooner than later.
"On some days, Akshay used to be on the sets by 7 AM itself. I had to actually push my junior actors to be there earlier so that Akshay didn't have to wait. Everything moved ahead in super speed which saved a lot of time for all of us. Also, Shirish (Kunder) has written the film so well that a bound script came in handy to execute everything as per the plans. This way of working has totally spoilt me", acknowledges Farah.
Earlier films took longer shooting time
She does acknowledge the fact that her earlier films took time.
"In case of Main Hoon Naa, the film was bound to take time as it was my first film", she continues, "On the other hand if you remember then Om Shanti Om had a lot of cameos. Sometimes even if we worked with a particular star for just a couple of hours, it would be registered as an entire day of shoot since we didn't shoot with anyone else. For example, the cameo by Akshay himself was shot in mere two and a half hours. Still, since we hadn't planned to shoot with anyone else that day, the entire day was logged in the overall schedule."
The Money factor
While Farah is (rightly) not quite in the mood to revisit the past and ponder over the time that her earlier films took, the super-efficient manner in which Tees Maar Khan has wrapped up means that some real cost saving has been an added benefit.
Says a senior member from the film's production team, "Every single day of shoot means lakhs being spent on getting the set in place, hiring equipment, paying crew members who work as daily hires and other expenses. Plus there is cost of money as well. Leave aside the fact that Farah has taken some time to shoot her earlier films; any average biggie does take 70-80 days at least to be shot. Still, a wrap in 52 days is commendable. With the pending 'qawalli' requiring not more than 5-6 days more of the actual shoot, Tees Maar Khan will easily fold up under 60 days. That's some real good money saved."
Bonus time folks
Farah has the final word here. "The film is titled Tees Maar Khan and with Akshay being so time conscious, I had a resolve with my entire unit that we had to can at least 'tees shots' (30 shots) in a single day of shoot. Everyone, including my cameraman, knew the film shot by shot when we entered the sets. I had promised my crew that if the film's shoot would be completed under 60 days, there would be a bonus for them. Guess we managed to crack it all eventually and it's time for me to get it all arranged. Nothing would have been possible if not for my lead actor's energy here."
Also, starring Akshaye Khanna, Tees Maar Khan is expected to close the year on it's biggest high once it releases all over on the Christmas weekend of 24th December.
BOLLYWOOD HUNGAMA.COM

100 days
,
24 december
,
45 days
,
52 days
,
7 am
,
70 days
,
8 am
,
action
,
akshay kumar
,
akshaye khanna
,
Bollywood
,
bollywood hungama
,
bonus
,
bound script
,
cameo
,
christmas
,
cost saving
,
crew member
,
equipment
,
Farah khan
,
farah khan tees maar khan wrap up akshay kumar
,
Fenil
,
hire
,
Joginder Tuteja
,
junior actors
,
Katrina Kaif
,
lakhs
,
main hoon naa
,
major film
,
morning person
,
nervous
,
Om Shanti Om
,
productive
,
qawaali
,
Salman Khan
,
set
,
shirish kunder
,
songs
,
tees maar khan
,
wrap-up