Posts tagged
box office
By Pritish Nandy (TOI blogs), September 1, 2010 – 12:20 IST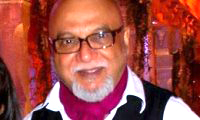 After years, the promos of a film have really excited me and I'm dying to watch it, first day, first show. No, I have no idea if the film is good or bad. In all probability, it will be awful. Two recent films in this genre were ghastly, though they made lots of money in the box office. And one of them, being a Aamir Khan film, assumed iconic proportions and got the star the moniker of being a matchless marketing whiz, particularly because he stole the thunder from under Shah Rukh's nose. While Shah Rukh was doing his usual number for Rab Ne Bana Di Jodi, Aamir came in from behind with his buzz cut ushers in the theatres announcing the arrival of a thunderous blockbuster two weeks later. The whole focus shifted overnight from Surinder Sahni to Sanjay Singhania. Both films were as ordinary as they come. But Aamir's went on to become a huge hit, announcing the arrival of a new genre in Bollywood: the Tamil bloodfest.
Its success quickened the release of another bloodfest, this time with Telugu origins: Wanted. You can't get cheesier than Wanted. It's possibly the worst movie you have seen, shoddily scripted, badly crafted, crudely put together: an astonishing display of plywood machismo. But even that couldn't stop it from becoming a huge blockbuster simply because Salman Superbrat swaggered through the film with his trademark cheekiness, doing nothing, just being himself. That made the movie. If, like me, you watch movies not at their premiere, or on TV, but in a typical old fashioned theatre, not even in a multiplex, you will figure why Salman works. His every strut is greeted with wolf whistles and cat calls. His every line of cheeky dialogue is loudly chanted by his fans and some of them, who are watching the film for the umpteenth time, anticipate his lines by screaming them out a split second before they are spoken on screen. This is clearly one star whose fans don't want him to act. They want him to strut through the film, doing nothing more than delivering cheesy lines of dialogue and beating up guys beefier than him. And, O yes, they reserve the maximum applause for that one moment in a film when he takes his shirt off, either for the mother of a fight or a chalu song. In both, Salman has exactly the same slightly funny, slightly exasperated expression as if to say: Why the hell am I doing this shit?
Aamir's the opposite. He's intense to a fault. Every role appears to be a matter of life and death for him. He has to get it just right. His films too are exactly the opposite of Salman's. They are so carefully crafted that every emotion, every feeling is wrung out of every scene. Often even the manipulation shows. Most times he gets away with it simply because he's Aamir and can do no wrong. His producers too have taken on Shah Rukh at the numbers game. Huge full page ads declare box office figures that keep spiralling till the pundits finally throw up their hands in exasperation. Akshay Kumar's producers too briefly joined this numbers game but are now slightly subdued with Akshay having signed on a few duds. But Akshay remains chilled. He knows he has an innate goofy charm that can survive all the tacky screenplays he cheerfully sleepwalks through.
Funnily, barring Salman, the others are looking less and less like stars today. They are beginning to look like businessmen. Shah Rukh has even hit the cover of a business magazine and is sounding, behaving more like a producer than a star. So is Aamir. What they don't realise is that popular fan bases are not built on the imagery of businessmen or producers. The common man does not admire a bania. The villain in most films of my growing up years was the village mahajan or the city slicker in a white shark skin suit sitting with his bottle of Vat 69. India may have changed. Money is no longer a bad word but the man on the street still admires a hero, not a wealthy man. The iconic hero of Bollywood was for over two decades the Angry Young Man who fought the entire might of the system and brought it tumbling down.
This brings me back to Chulbul Pandey. I am sure Dabangg will be whatever. But what the heck, I love movies where a cracked hero walks through an equally cracked screenplay doing the weirdest, whackiest things, and no one does that better than Salman. Will I ever make a film like that? Unlikely. Will I recommend a film like that? Not over my dead body. Will I go to a sweaty, stinking theatre to watch it, surrounded by screaming, whistling, hysteric Salman fans? Yes, I will. That's the movie watching experience I pay for. It reminds me of my adolescence. It reminds of the time when movies were movies and heroes could do anything and get away with it.
Courtesy: TOI blogs
BOLLYWOOD HUNGAMA.COM

Aamir Khan
,
adolescence
,
akshay kumar
,
blockbuster
,
Bollywood
,
bollywood hungama
,
box office
,
business magazine
,
businessman
,
cheeky dialogue
,
chulbul pandey
,
common man
,
dabangg
,
fan base
,
fans
,
Fenil
,
intense
,
manipulation
,
marketing whiz
,
Multiplex
,
pritish nandy
,
rab ne bana di jodi
,
Salman Khan
,
Shah Rukh Khan
,
shirt off
,
single screen
,
strut
,
system
,
The curious appeal of Salman Khan
,
TOI blogs
,
trade pundit
,
villain
,
Wanted
,
whishtle