Posts tagged
apna desh
By Taran Adarsh, July 26, 2010 – 13:29 IST
The fascination with gangster movies has been immense worldwide. On this side of the Atlantic, several gangster films have left giant footprints on the sands of time. Films like DEEWAAR [Yash Chopra], DHARMATMA [Feroz Khan], NAYAKAN [Mani Ratnam], ANGAAR [Shashilal Nair], PARINDA [Vidhu Vinod Chopra], AGNEEPATH [Mukul Anand], SATYA and COMPANY [Ramgopal Varma], VAASTAV [Mahesh Manjrekar], GANGSTER [Anurag Basu], D [Vishram Sawant] and SHOOTOUT AT LOKHANDWALA [Apoorva Lakhia] have tremendous recall value to this day.
ONCE UPON A TIME IN MUMBAAI recreates an era that so many of us have left behind and for those who arrived on this planet post 80s, I am sure, they must have visited the era through some medium or the other, mainly movies and internet or during their academic careers.
ONCE UPON A TIME IN MUMBAAI is not part of history, but it attempts to portray on celluloid tales that are now considered legendary, that continue to make news to this date. Of course, the disclaimer claims that it bears no resemblance to a particular person, but you can't help but draw parallels with real-life characters. It could be a coincidence, though!
ONCE UPON A TIME IN MUMBAAI is a fascinating story that talks of how the mafia came into force for the first time in Mumbai. A thriller that depicts the crime scenario in Mumbai during the 70s and 80s. The rise to power of two young boys, in different age-groups, who grew up to 'rule' the streets of Mumbai.
Since there's tremendous speculation in the media that ONCE UPON A TIME IN MUMBAAI chronicles the lives of Haji Mastan and Dawood Ibrahim, the curiosity to watch the film increases manifold. Of course, I am no one to comment if it's actually based on their lives or merely borrows a few incidents from their lives or is pure fiction, but as a cinematic experience, I couldn't help getting transported to the bygone era, getting sucked into a world I had no clue of.
Besides the gangster chapter, one enjoys this film also because of its riveting drama and the power play. It could've been set anywhere, in the corporate world, in politics, in the film industry. Anywhere. The rise and subsequent fall of the King and the emergence of the Prince as the super power is what makes this film a compelling watch. The icing on the cake is the magical and lilting song compositions that are juxtaposed so beautifully in the goings-on. On the sidelines of the power play, a game of hearts is being played and that's what makes ONCE UPON A TIME IN MUMBAAI a wholesome movie experience.
Final word? ONCE UPON A TIME IN MUMBAAI is not to be missed. Set everything aside this coming weekend and watch this one. Strongly recommended!
The film, set primarily in 1970s Mumbai, follows the rise of Sultan Mirza [Ajay Devgn] and the conflict that ensues, when his protégé Shoaib Khan [Emraan Hashmi] challenges his supremacy and usurps power to rule the murky underbelly of Mumbai.
ONCE UPON A TIME IN MUMBAAI is a power-packed drama that makes you thirst for more. You rewind to an era of romance, smuggling, cabaret and mafia, but director Milan Luthria and writer Rajat Aroraa ensure that there's no sleaze or bloodshed-n-gore. In fact, there's hardly any violent sequence in the movie, except for one when Ajay hammers a cop during a naaka-bandi.
ONCE UPON A TIME IN MUMBAAI is not a biopic, but narrates the story through the eyes of a police officer [Randeep Hooda], who traces the changing face of the Mumbai underworld. The screenplay encompasses several moments that may compel you to draw parallels with real life, but talking strictly from the movie-going point of view, it satiates you completely. In fact, the writing is cohesive, smart and watertight and there's never a dull moment. Besides, there's no time to think whether it's factual or loosely based on someone's life or a work of fiction.
As I look back and recall the movie, a number of sequences flash across my mind. Note the sequence when Ajay divides the city amongst gangsters… The train sequence at the very start… The introduction of Emraan Hashmi's character… Randeep Hooda's landing on a film set and confiscating the equipment… The subsequent sequence, when Randeep is framed for accepting bribe… The romantic moments between Emraan and Prachi in the jewellery shop… Emraan starting his business and the confrontation that ensues between Ajay and Randeep… The showdown between Ajay and Emraan, with Ajay slapping Emraan in full public view… The conclusion to the story is equally novel. It stays in your memory and sets you thinking.
On the flipside, the story begins with Randeep attempting suicide, but the writer should've cited the reason that prompted him to take that drastic step. Sure, there's a mention at the start, but it doesn't register well. Also, you are keen to know the chain of events that drove Randeep to suicide. Also, the pace slackens in the middle of the second hour, but picks up dramatically when Ajay returns from Delhi and confronts Emraan. Besides, how I wish the film had a shorter, mass appealing Hindi title to attract more eyeballs and a big jump in footfalls [at single screens and smaller centres mainly] for a mass appealing subject like this.
This is director Milan Luthria's best work to date, no two opinions on that. Recreating the bygone era is tough and the director, the writer and the art director [Nitin Chandrakant Desai] deserve brownie points for giving the film that authentic feel. In fact, the film wears a chic retro look throughout. Even otherwise, Milan's handling of the subject material is exemplary. This film is sure to catapult him to the top league. Rajat Aroraa's screenplay is powerful and engaging. The writer marries heavy-duty drama and subtle and delicate emotions beautifully. I would like to make a special note of the dialogue, also penned by Rajat Aroraa, which are simply fantastic. In fact, the dialogue writing is such it elevates even an ordinary sequence to great levels. One rarely comes across such potent dialogue in today's times.
Pritam's music is another ace. Injecting songs and that too a terrific soundtrack in a gangster film is tough. He did it in GANGSTER. He does it again in ONCE UPON A TIME IN MUMBAAI. 'Pee Loon', 'Tum Jo Aaye' and the remix of APNA DESH track are super compositions, which are also placed appropriately in the plotline. Cinematography [Aseem Mishra] captures the look to perfection. Akiv Ali's editing is sharp.
ONCE UPON A TIME IN MUMBAAI is embellished with fantastic performances. Ajay Devgn is splendid as Sultan. The actor had enacted a similar role in COMPANY, but it must be said that his interpretation is so different in ONCE UPON A TIME IN MUMBAAI. He adds so much depth to the character, which only goes to prove his range and versatility. This is, without a trace of doubt, Ajay's finest work so far. Emraan Hashmi is brilliant as the power greedy, wildly ambitious rebel. He plays the dark character to perfection. He's incredible in the penultimate moments of the film in particular. Besides carrying the look to perfection, Emraan is sure to break-free from the lover boy, serial kisser image with this film.
Kangna Ranaut is extremely natural and performs very well. Also, she brings so much of sensuality and glamour to her character [an actress of the 70s]. In fact, Ajay and Kangna make a wonderful on-screen pair. Prachi Desai is a bundle of talent who proves her mettle yet again. She's proficient in emotional scenes and sizzles in the BOBBY song-sequence. Besides, the chemistry between Emraan and Prachi is exciting. Randeep Hooda is top notch. Even though the film belongs to Ajay and Emraan, Randeep makes his presence felt with a powerful performance. This film should prove to be the turning point in his career.
Avtar Gill [as Home Minister] is good. Naved Aslam [as Patrick, Ajay's trusted lieutenant] is perfect. Mehul Bhojak [as Emraan's friend Javed] is competent. Ravi Khanwilkar [as Vardhan] is satisfactory. Gauhar Khan sizzles in the remix track.
On the whole, ONCE UPON A TIME IN MUMBAAI is an extremely well-made film that lingers in your memory. The realism coupled with stellar direction, power-packed writing, exceptional performances and ear-pleasing tunes are its trump cards. An outstanding cinematic experience!
70s
,
Agneepath
,
AJAY DEVGN
,
akiv ali
,
angaar
,
Anurag Basu
,
apna desh
,
apoorva lakhia
,
aseem mishra
,
avtar gill
,
bloodshed
,
bobby
,
Bollywood
,
bollywood hungama
,
cinematic experience
,
Company
,
cop
,
corporate world
,
D vishram sawant
,
dawood ibrahim
,
deewar
,
Dharmatma
,
drama
,
Emraan Hashmi
,
Fenil
,
Feroz Khan
,
fiction
,
film industry
,
gangster
,
gangster movie
,
gauhar khan
,
glamour
,
haji mastan
,
hindi title
,
home minister
,
javed
,
jewellery shop
,
july 26
,
Kangna Ranaut
,
mafia
,
Mahesh Manjrekar
,
mani ratnam
,
mehul bhojak
,
milan luthria
,
movie review
,
movie review once upon a time in mumbaai taran adarsh
,
mukul anand
,
NAVED ASLAM
,
nayakan
,
nitin chandrakant desai
,
ONCE UPON A TIME IN MUMBAAI
,
parinda
,
patrick
,
pee loon
,
politics
,
power play
,
prachi desai
,
pritam
,
rajat aroraa
,
Ram Gopal Varma
,
randeep hooda
,
ravi khanwilkar
,
rebel
,
retro look
,
satya
,
screenplay
,
sensuality
,
serial kisser
,
shashilal nair
,
shoaib khan
,
shootout at lokhandwala
,
single screen
,
small centre
,
song
,
suicide
,
sultan mirza
,
taran adarsh
,
thriller
,
tum jo aaye
,
Vaastav
,
vardhan
,
Vidhu Vinod Chopra
,
violence
,
Yash Chopra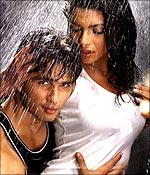 Once in a particularly blue moon, comes a film that makes you wolf-whistle. One that then ties you to the edge of your seat and forcibly pins you there and pounces on you, eventually leaving you sitting in the dark, drained and grinning and more satisfied than a film has any business leaving you. This, ladies and gentlemen, is that kind of ride.
And way more.
Vishal Bhardwaj reinvents the filmi rollercoaster with feverish glee as he takes a wonderfully twisty plot and paces it flawlessly around a bunch of madcap, irresistible characters. It takes nearly twenty minutes to get used to things, the characters, the words they speak, they way they speak them, and the tone of the film — heck, to get used to this film's world. Then on, the film just freakin' flies.
Yet before getting into the breakneck chaos, it is this unapologetic figure-it-out stance that we must initially applaud. Too often are our caper films and thrillers compromised by oversimplification and spoonfeeding, by filmmakers believing audiences need things spelt out and giving them bite-sized flashbacks to easily digest each twist. No more, says Bhardwaj, throwing us a delicious jigsaw and letting things fall into place in their own sweet time. The result is startlingly clever, an innovative film with genuine surprises. Kaminey is the kind of film whose success we ought all pray for, because it'll prove smart cinema works.
So delicious is the movie's gradual unravelling that I refuse outright to let you in on the plot itself — an enthralling tale of drugs, deceit, dingbats and dead-ringers — because you need to discover this on your own. Go in as fresh as you can, you deserve to taste this one by yourself. Letting on what actually happens would make me one of the film's titular knaves.
Suffice it to say that Tassaduq Hussain, who also shot Vishal's brilliant Omkara , does it more than adequate visual justice, and the largely-handheld film emerges very stylistic indeed. It's fast, funny and constantly rollicking, and the characters are spectacularly entertaining.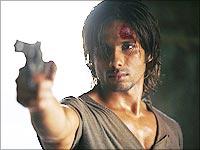 As is the cast. Shahid Kapoor plays Guddu the stutterer and Charlie with a lisp, saying f for every s, and does strongly enough to credibly seem like two different people; Priyanka Chopra's delightfully high-strung Sweety pulls off hysterical Marathi with impressive fluency. Yet it is the ensemble of fantastic oddballs who truly make this film special: from Amole Gupte's demented Santa Claus routine as Maharashtra-lovin' gangster Bhope Bhau to Chandan Roy Sanyal's lethally capricious coke-lover Mikhail, from Shiv Subrahmanyam's helpless corrupt cop Lobo to Tenzing Nima's ludicrously likable drug-smuggler Tashi — the film is full to the brim with splendidly unfamiliar faces, each of whom deserve a hand, not just the ones singled out here.
And Vishal generously gives each character their time in the spotlight. Guddu heartwrenchingly recounts his middle-school love, while Sweety captures beer-driven arousal with charming realism. Bhope bribes a big-eared nephew with chocolate, while Lobo coaxes the stutterer to give a police statement through song. The Bengali gangsters shoot bullets near each other for laughs, while the Marathi ones are transfixed by Guddu-Sweety screensavers on a laptop. Charlie unwraps a cellphone from plastic as he tries to placate gangsters, while — in an extraordinary moment — Mikhail sets the screen ablaze as he staggers in on the same gangsters, high on coke and unpredictable as a broken roulette wheel. There's so much to marvel at in these characters that it isn't funny. Oh wait, it is. Very.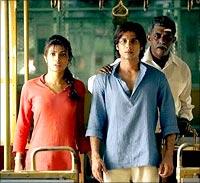 What raises this rambunctious gangster movie head and shoulders above its genre is the writing. The wordplay is constant, subtle and absolutely exquisite — a tough ask when one hero trips over words and the other narrates — yes, narrates — with a lisp. And there's a witty duality running through the film's twin tales: a character barks into a phone, and this sound echoes later when someone pleads in front of Bhope, daring not to take his name but just calling him repeatedly big brother, "bhau-bhau"; Mikhail introduces himself to Bhope by calling himself Tope Bhau, and nearing the climax Bhope is told by another that they have 'topein' (cannons) too; when Mikhail wins a race, arriving just in time, he breaks into the Spiderman theme — and Charlie responds with Fpiderman-Fpiderman. When a character wants to steal a king's ransom in drugs to help a pregnant woman, another snarls back: 'Toh kya meri coke ujaadega?' Ha. It's nuanced, lovely writing, the sort we never get to see in films nowadays.
Bhardwaj has never been secretive about his Quentin Tarantino adoration, referencing the director in Blue Umbrella and doing it here again with high heels and an injection. While Tarantino exclusively uses music he already loves because he doesn't trust anyone to create anything as good, Bhardwaj has always done it all himself, writing, directing and composing — not to mention singing, and its worth noting the slight s/f lisp he gives the film's magnificent title track when it plays on screen. Yet here he takes a leaf from QT's book and brings back the saucy RD Burman track 'Duniya mein logon ko' (from 1972's Apna Desh) and makes it his own, giving it sassy new context out of its dated backdrop — no more Rajesh Khanna in a red suit, this song is now all Shahid.
So the film leaps through implied ultraviolence and dark humour and you hold on, exhilarated — just as you have through, say, Guy Ritchie's Lock Stock And Two Smoking Barrels. And while that itself would be no mean feat, Bhardwaj ups the ante with an audacious climax, suddenly bringing emotions right to the fore.
And while films of this ilk are full of disposable-bodies and corpses-in-waiting, one discovers that Vishal has — sneakily, stealthily, surreptitiously — kept the sentiments so darned real that by the time the climax rolls around, you do actually give a damn about these characters.
Wow. Now if that isn't kameenapan, I don't know what is. Awefome.

(4.5/5)
1972
,
amole gpute
,
apna desh
,
awefome
,
bhope bhau
,
blue moon
,
Bollywood
,
chandan roy sanyal
,
cop
,
dark humour
,
drug smuggler
,
duniya mein logon ko
,
Fenil
,
guy ritchie
,
hysterical marathi
,
impressive fluency
,
kameenapan
,
kaminey
,
lobo
,
lock stock and two smoking barrels
,
mikhail
,
movie review
,
omkara
,
priyanka chopra
,
Raja Sen
,
shahid kapoor
,
shiv subrahmanyam
,
sweety
,
tashi
,
tassaduq hussain
,
tenzing nima
,
vishal bharadwaj
,
wolf-whistle