The Punjab we see in movies is not the Punjab that exists in real-Kunal Kapoor
DNA (October 30, 2012)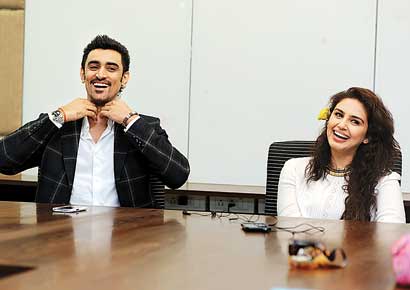 DNA
When actors Kunal Kapoor and Huma Qureshi walked into the DNA After Hrs office recently what followed was an appetising afternoon filled with stimulating conversation. The duo spoke about their choice of films, when not to compromise and the fear of being slotted. Excerpts from the chat:
You are not the quintessential Bollywood hero and are known to have turned down offers for mainstream films that did not appeal to your sensibilities. Do you feel empowered that young actors can now choose or refuse roles?
Kunal Kapoor: We are living in a time when the audience is open to everything. If I was an actor 10-15 years back, I would notbe happy doing some of the work that was being produced back then. Right now, there is every kind of cinema available not just to actors but also to the audiences. Everything is working now, right from blockbuster masala films to offbeat cinema to dark edgy movies. And they are all doing great at the box-office too. So now an actor can choose, like from a thali.
Isn't there a fear of being slotted in certain kind of roles and being ignored by the mainstream?
Kunal Kapoor: I don't think that's true for me. I have rejected films that have gone on to do very well because I did not believe in them. And I have no regrets. I don't think mainstream filmmakers have ignored me, I was fairly accepted by them. I had the choice to say no. People think that I am foolish not to be seen a lot more and go for films that I don't believe in. I would rather be foolish than do films that don't excite me.
Huma Qureshi: It's very difficult to say no to something that you know is going to work. But if you don't believe in it then there is no point in going further. Being choosy might not work in the short run but it does pay off in the long run. Then you carve a niche for yourself and come to be identified with a certain kind of cinema.
How easy or tough is it not to compromise? To go for a film that you know is going to be a commercial success versus taking your time and saying no on the basis that you don't believe in it?
Kunal Kapoor: The way I look at it, it might go on to become a successful film but for me it is more important to be seen in something that I believe in. So it is not a tough choice. It is frustrating as an actor to not be working as you would rather be on the sets. It's easy for me as I am sure and certain about what I want and don't want to do. So, it is not a hard choice for me at all. What is difficult for me is to sit it out. It is like sitting on the stands and watching a football match when you are the 12th man. People walk up to you and say that you are a very talented man and you should be out there but there are other people playing on the field. You know you are going to be out there at some point of time. As an actor, I want to be working all the time. That is tough but making a choice isn't!

Is it also because you are also doing a lot of other things and have varied interests?
It's always important to have varied interests as it is food for the soul and the mind. You are not sitting at home and twiddling your thumb.
After seeing you in Gangs of Wasseypur, we will now be seeing you in a light-hearted role in Luv Shuv Tey Chicken Khurana. How did you prepare for the role?
Huma Qureshi: There is the same amount of preparation that goes into every character, whether you are playing a Bihari girl surrounded by gore and blood, or a Punjabi doctor in a light-hearted, slice-of-life kind of a role. The process is still the same; the outcome may be different. But it's nice that in a short span of time people are seeing me in two different roles as it shows that range that I can explore as an actor.
The Punjab in Luv Shuv… seems more relatable.
Kunal Kapoor: I am glad you said that. The Punjab that we see in movies is not the Punjab that exists in real life. When you watch a movie set in Punjab, your reaction is that this is not the Punjab that I know. You don't have people dancing in the fields all the time, or just because you a Punjabi you are not boisterous and loud. Our attempt was to bring to the screen the Punjab that we know. And our writer Sumit (Batheja) is actually going to be panned by his family since a lot of characters in the film are inspired by his real-life relatives.
(Transcribed by Jayoti Soor)