Sanjeeda Sheikh plays sexy temptress in Ramleela
Aakansha Naval-Shetye (DNA; October 26, 2012)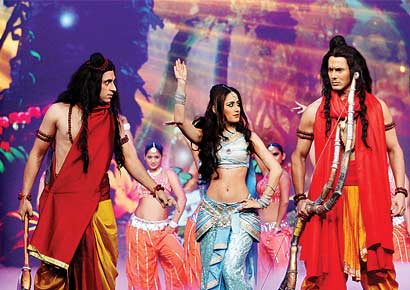 Sanjeeda Sheikh
The recently launched dance drama Ram Leela — that has Bollywood actor Ajay Devgn play the sutradhar — is all set to get an added dose of glamour, as actor Sanjeeda Sheikh is slated to make an appearance on it in a never-seen-before-negative-avatar. The TV hottie will be seen playing Ravan's sister Surpanakha, in an upcoming episode of the show based on the mythological epic Ramayan. According to a channel source, Sanjeeda will perform a seductive dance number as Surpanakha in a temptress avatar in a bid to try and lure Lord Ram away from Sita during their vanvaas. Talking about it, Sanjeeda admits that she has never done anything like this on the small screen before. "It was interesting, but also challenging. I was not aware of this aspect of Ramayan in detail, but I have tried to do justice to my performance. The challenging part was not the dance, but lip-syncing as it has many words in Sanskrit," reveals Sanjeeda.
As for her portrayal, the actor reveals that there's nothing vulgar about it. "Well, it's a family show, so the dance number has been done in a very controlled and toned down manner keeping in mind our target audience. Remo (choreographer) was very clear about that right from the beginning. The idea is to show Surpanakha try to tempt Shri Ram, but I'm not doing the filmi seductive groove here," she clarifies.
The dance performance also sees her depart from her usual 'Miss Goody-Two-Shoes' roles and get into the dancing shoes of a vamp in Hindu mythology. But Sanjeeda insists that it wasn't a risk for her as an actor. "My part is more of a dance track than a negative role, so I don't think that my image will take a beating at all," she explains. The real draw, adds Sanjeeda was the chance to be a part of a musical dance drama of this scale. "It's a different experience altogether and even for the audience as it's a novel concept on the small screen. Besides, I really love dancing and have never done anything of this sort before, so, it was very interesting for me to try and play a dancing Surpanakha," shares Sanjeeda.