I have daily conversations with Lord Ganesha-Aditi Rao Hydari
Aakansha Naval-Shetye (DNA; September 25, 2012)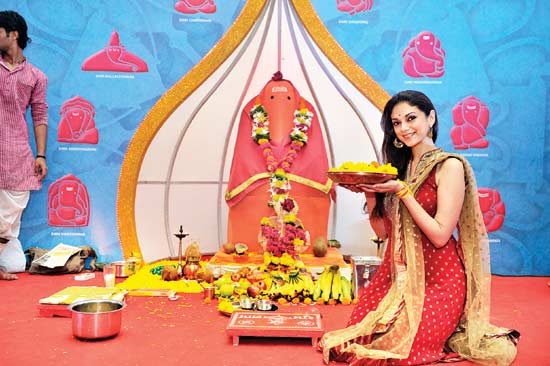 Aditi Rao Hydari
Being a Delhi girl, actor Aditi Rao Hydari — who's a firm believer in Lord Ganesha — admits that seeing Ganesh Chaturthi being celebrated on such a huge scale in Mumbai has been a different experience for her altogether. "The way it brings people together is amazing. It is such a strong community bonder, and to see it being celebrated on such a big magnitude here, is all very new for me and exciting. I am just letting all the joy sink in. The excitement is contagious," enthuses Aditi.
The London Paris New York actor, who visited the DNA eco-Ganesha to seek blessings, reveals that she was delighted with the darshan. "The fact that it supports an eco-friendly cause made it much more special for me as I strongly believe in it myself," she says. "I am sure Ganesha himself would prefer his idols to be made of clay, as it used to be the case earlier. And there's a philosophy behind it too— that it is made of clay and goes back to clay without disturbing the ecological system. So it makes sense to follow that. And I do hope and pray that people realise the importance of saving the environment, and also stop harming it in any way," adds Aditi.
Talking about her own bond with Bappa, Aditi reveals that she always carries a small idol of Ganesha with her. "My mom had gifted me a small silver Ganapati idol, which I carry with me wherever I go.
In fact, I remember that the very first song that I had learnt as a child was of Ganapati Bappa. I think children relate to him very easily as He's like a baby himself. I always found Him to be very cute. And his eyes are so kind, gentle, yet naughty, it's easy to fall in love with Him. I always have regular conversations with Him," shares the actor.
As for what she prays for, Aditi says that there is nothing she asks for. "I feel that He loves us unconditionally, and gives us our dues, so I never have a barter system with God. I am very thankful to Him for whatever he has given me and feel blessed to have come so far. I may have made it on my own, but I know it was His hand I held on to," says the actor. Currently shooting for Murder 3, Aditi adds that she makes it a point to thank Him at least once daily.