Celebrate, but also conserve-Mugdha Godse
Aakansha Naval-Shetye (DNA; September 22, 2012)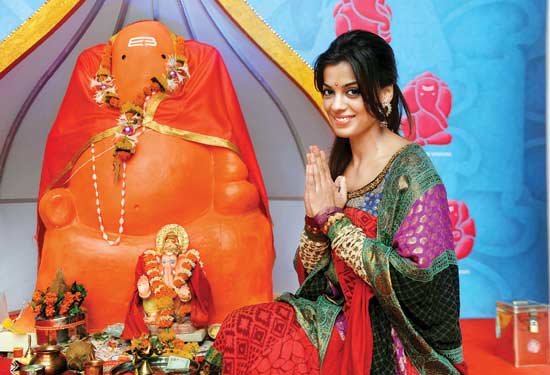 Mugdha Godse dropped by to seek blessings from DNA's Eco Ganesha
Having lived in Pune all through her childhood, actor Mugdha Godse reveals that Ganesh Chaturthi has always been an integral part of her life. In fact, it's a festival that the actor admits, is her favourite too. "The entire house comes alive and buzzes with excitement when Ganpati Bappa comes home. Everyonedresses in their finest best, the aartis, and the gorging on modaks and pooran polis are as much fun as they were years ago," enthuses Mugdha.
Though the actor didn't get to visit her home in Pune this Chaturthi, the actor celebrated the festival with DNA as she did the aarti at DNA's eco-friendly Ganesha, before flying to Hyderabad for her work commitments. "I think in the age we live in, it's all the more important to get responsible in our celebrations. So celebrate, but also conserve the environment. And simple things like opting for clay models over Plaster-of-Paris ones, go a long way in preventing any harm to the environment. We owe it to our future generations, but also we should do it for Bappa," says Mugdha, who's always been a staunch supporter for eco-friendly Ganapati.
Supporting the initiative, the actor says that such campaigns are very much required to bring an awareness among the 'bhakts'. "I am all for such a noble initiative and I think the message it spreads is actually the need of the hour. Minimising the use of artificial products that can harm the environment and opting for natural substances instead is a great way of doing that little bit for society. In fact, each one of us should encourage and help bring about this awareness," she adds. "This year I am missing all the celebrations at home in Pune as I have been busy shooting for films, but I will try to wrap up workand if I can, I'll pay a visit a little later. But I do perform a small puja at home here in Mumbai, and seek blessings of Bappa," shares Mugdha.
Talking about the bond that she shares with Lord Ganesha, Mugdha says that for her Bappa is the friendliest of Gods. "I always took him more as a friend than a God to be feared. His tales of how he would love modaks and be with Parvati maa, he seems more like a child than a God. So for me, he's always a friend I can turn to for almost everything and anything under the sun. And trust me, like all his other devotees, he's never ever let me down," adds Mugdha. "I think the least we can do to thank him for all his blessings is to save the nature that he's a part of. I think not only this, but then every Ganesh Chaturthi will be special in the truest sense," she smiles.