Prachi Desai: I M 24
Shaheen Parkar (MID-DAY; September 12, 2012)
Prachi Desai, who turns 24 today, is looking forward to making merry. Though she has not made any plans for her big day, her close pals have lined up a small bash for her.
Says a source, "For the last few days she has been busy preparing for the shoot of the Hindi version of the Telugu film Saamy in which she stars with Sanjay Dutt. She is slated to join the unit soon due to which she has had no time to make any elaborate plans. She was also in hometown Pune for the weekend. So it has been left to her buddies to surprise her."
The actress also recently returned from the US after a vacation. After taking part as the grand marshal at the Indian Independence Day celebrations in Chicago and New Jersey, she decided to stay on and also visit Atlanta.
Adds the source, "She was planning a vacation after the release of Bol Bachchan so she followed her commitments by a holiday. She got back in time for her birthday, as she wanted to spend the day with her family and close friends. The past year has been good to her especially Bol Bachchan so there is lots of reason to celebrate before she leaves for Hyderabad for the shoot of the Sanjay Dutt starrer."
———————————
Prince Charming for Prachi Desai
Aakansha Naval-Shetye (DNA; September 12, 2012)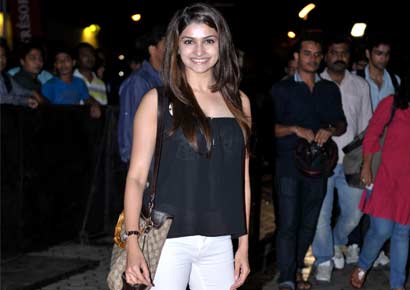 Prachi Desai
DNA Research N Archives
Actress Prachi Desai, who turns 24 today, reveals that she is looking forward to the surprises that her friends have planned for her, adding that the celebrations began last night.
"If I had my way, I'd run away to some quiet place on my birthday or spend it working like last year, when I cut the cake everyone had surprised me with on the sets of Bol Bachchan. But this time around, since I have just returned from the US, my friends have made some plans for me, an unofficial surprise birthday party, so let's see what roller coaster ride they have in store for me," says the actress.
Talking about her recent trip to the US, the actor shares that she was the Grand Marshal at the Chicago and New Jersey Parade, after which she took a small vacation. "The parade was one of the most memorable experiences I've ever had. One has to be there to believe it," she recalls excitedly. But what made her mini-vacation even more special was her visit to the Princeton University. "My heart is set on it. In fact, if I could make a birthday wish it would be to study there at least for a year. I know it's kind of tough given the films I am doing back-to-back, but yes that remains high on my wish list," she says.
And what about love? "Well, that's on my list all year round, so it's Princeton University over Prince Charming. But ideally I would want both," enthuses Prachi. "I have been having fun on that front, but it would obviously be nice to have that fun consistently with the same person," she adds mischiveously with a smile. And will she be gifting herself something special, considering she has much to celebrate this year with her film having entered the Rs 100 crore league? "Yes, I have decided to gift myself something really big, but I can't reveal it yet. It'll take a few days to really happen, so I'm waiting," says Prachi.
Currently, prepping for the shoot of the remake of Saamy, the actress will soon be joining the team in Hyderabad within a few days. But till then, the actress' 'livin' it up in true birthday spirit,' she says.