Would love to work with Shah Rukh Khan-Penelope Cruz
Shreya Badola (DNA; September 5, 2012)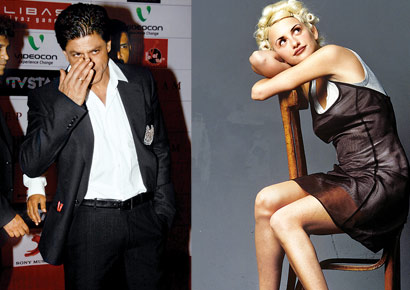 Shah Rukh Khan (L) and Penelope Cruz (R)
Hollywood actor Penelope Cruz has previously admitted to being fond of Bollywood superstar Shah Rukh Khan, and the Spanish beauty who will be seen in Woody Allen's romcom, To Rome With Love, seems determined to share screen space with him. She plans to shoot the film in India, she reveals. The excerpts:
You've just shot an ad with your younger sister Monica, who's called your lookalike… Do you see her as a competition?
My sister and I have been working together for years now, and it is always a great experience… She's a very hard working actor. Yes, she does look like me and I look like her, but she definitely is not my competitor. We help each other at work a lot. For instance, she played my body double in the movie Pirates of the Caribbean: On Stranger Tides, when I was visibly pregnant.
Tell us something about your role in the Woody Allen film?
To Rome With Love is a comedy that follows the lives of various individuals, some of whom are American and some Italian, some residents and some visitors, all around the enchanted ancient city. My role is that of a hooker, who makes prostitution seem like a desirable career. She's very professional, looks at her job with dignity, and wants to be the best at it. She's convinced that she is helping people with her work, and that what she does is really necessary for society.
What was it like to work with Allen?
I have been a fan of Woody Allen's work ever since I was a little girl. I was very happy to meet him, to be able to spend time with him. He makes me laugh all day long, so I feel like the luckiest girl.
Are you familiar with Bollywood?
I am a great fan of Indian cinema and I would love to work with Shah Rukh Khan. I have the rights to a book and we are going to shoot the movie in India.
Would that be your first trip to India?
No, I have been there several times. I love India, it is very special country. And I can't resist its food too. I love rice, bread and yogurt, and these, I find are also an integral part of Indian diet.