Life has been my favourite teacher-Sushmita Sen
Shakti Salgaonkar (DNA; September 5, 2012)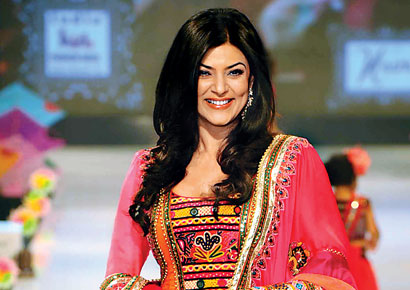 Sushmita Sen
She sported flowing chiffon sarees with sexy blouses to teach chemistry to college students in Main Hoon Na. Ask actor Sushmita Sen if she modelled the character on a particular teacher, and she winks, "Chandni Chopra was Farah's (Khan) baby. She conceptualised the role and I modelled it on the fantasy teacher of every school and college going male student!"
Growing up, Sushmita went to Kendriya Vidyalaya and the Air Force Golden Jubilee Schools, where the former beauty queen had some amazing teachers. "They are still etched firmly in my memory, because they have contributed to who I am. As a child, the curriculum may have appeared tough and rather unnecessary at times. But looking back, I'm grateful for the education I received.
It has enabled and equipped me to face tougher challenges ahead." Tell her to pick a favourite teacher and she says, "Life itself has been my favourite teacher!" As her own daughter Renee is now in school, Sushmita observes that relationship between students and teachers is just as special as it used to be back in the day. "One spends a best part of childhood at school. Given that very basic premise, the teacher-student relationship will always be very special. But I find that with changing times, happily enough, there's more warmth and a sense of camaraderie attached to it. That makes it even more perfect."
The first Indian to bring home the Miss Universe crown, Sushmita also mentors young girls to represent India at the International beauty pageant, making her a real life teacher. It's a challenging role that the leggy lass loves. "The trained eye of the judge no longer looks for that 'perfect face' or just a 'perfect 10' figure. It is more about what lies beneath. And I find it challenging to mentor each of my girls in exploring that aspect of their natural beauty. It's a humbling opportunity and an honour to mentor them!"
And who is her favourite on-screen teacher? "Hands down, it has to be Amitabh (Bachchan) Sir as an English professor in Chupke Chupke," she exclaims.