Kashmir banking on Shah Rukh Khan?
Aakansha Naval-Shetye (DNA; August 27, 2012)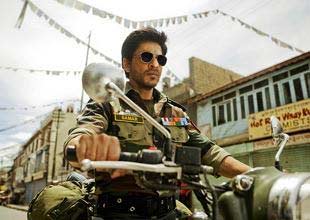 As actor Shah Rukh Khan gears up to shoot in Kashmir for his forthcoming yet-to-be-titled Yash Chopra film, buzz is that the locals are hoping that the Baadshah will help put the place back on the Bollywood map. Not only that, they are also hoping that with the king of romance shooting there, it might just give tourism a boost.
According to sources, the actor who was to fly to Srinagar in Kashmir, accompanied by his entourage will be shooting near the Dal lake. "It's a five to six day schedule in Kashmir and Shah Rukh will be stationed there till the end of this month," informs an insider.
Buzz is that hotels are getting frequent calls as enquiries are being made by curious fans asking about the whereabouts of the actor that has been kept a guarded secret. "Tight security arrangements have already been made keeping in mind the mood that's been created with his arrival, as it's crucial for the shooting schedule," adds the insider.
Sources reveal that a group from the production house with Chopra had gone ahead of SRK on Saturday to take stock and make the required preparations, while the actor was expected to fly in later.
"There was much excitement in Srinagar as word got around that he will be shooting there for his romantic flick," informs a source. It will be after a long while that a romantic film is being shot there. The valley, which had become synonymous with romance and love in Bollywood,has been the locale of several hit films right from Kashmir Ki Kali to Silsila. Today, though considered safe, many filmmakers have been shying away from shooting there due to security reasons. With Chopra heading back to his domain of romanceand in a place he had made famous through his films, there's excitement in the industry too, that hopes the film will encourage many other filmmakers to follow suit and rediscover Bolly love for Kashmir.
An observer points out that since the political unrest in Kashmir, most of the films based there or shot there, including the 2010 film Lamhaa have all been focussing on violence. "This film might just help in making the paradigm shift from terror and violence to romance and hopefully, SRK will revive the magic of Kashmir for tourists and Bollywood. Hopefully now the filmmakers' camera lenses will zoom back to Kashmir," say industrywallahs.
Meanwhile, sources reveal that the actor himself had been looking forward to shooting there. He is said to have had a beautiful experience shooting in Ladakh, and he now hopes to have a great time in Kashmir too. "Bak for a day from big mountains & big lakes of Ladakh. Hanging with kids & learning to live in small things…a hug…a smile..a complain," is what the actor had last tweeted at the time of going to press.