I'll kick their butt-Salman Khan
Aakansha Naval-Shetye (DNA; August 7, 2012)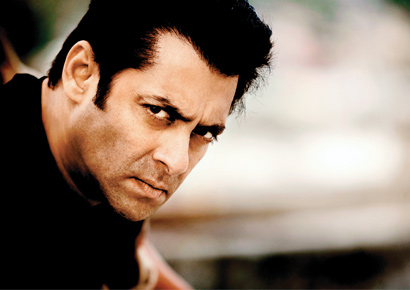 Salman Khan
Post his back-to-back hatrick of Rs100 crore films, all eyes are now rivetted on actor Salman Khan's forthcoming film Ek Tha Tiger. But if there's any pressure of delivering another blockbuster at the BO with Ek Tha Tiger, the Khan sure is showing no signs of it. Looking relaxed as we settle down for a tete-a-tete, it's our cue to ask him anything under the sun, and this tiger takes our volley of questions head on…
You seem to have reinvented yourself over the past two-three years…
After the success of Wanted and Dabangg, I realised what my audience really wanted of me and I decided to try and deliver them just that. But the idea is to try and better it each time convincingly. I have also become choosy, so no doing favours anymore or doing films just because I have time.
That's professionally. Personally too you seem calmer and more in control now?
I do feel more at peace. I think it comes from stopping to fight everything that comes your way and starting to accepting it. Sometimes, it's better to let destiny take it's own course and you just go with the flow.
Your action image is getting bigger and better, more so with Ek Tha Tiger. But wasn't it difficult pushing yourself so much right after your recent surgery?
Yes, I know I have been pushing it too hard when it comes to doing action, but I feel I owe it to my fans.
You are reigning at 40 plus. But is there any insecurity about younger actors?
I know I'm no teenager, so yes it takes a lot of hard work to be here. But no matter what my real age, people will always see me for my screen age and for them I will always be that many years old. So, as for younger actors, well, I will keep kicking their butt (smiles)!
How has your chemistry changed with actor Katrina Kaif over the years?
A lot. She's come a long way as an actor, so changes toh honge na.
You are still one of the most eligible bachelors in Bollywood?
Trust me this is one tag I had never aimed for (laughs).
So you believe in marriage and love?
Absolutely. I have a very happening love life. There's so much of it all around me, from family, friends, fans… That's actually my lifeline.
On one hand you are earning good wishes for your humanitarian works, on the other hand your past court troubles keep haunting you…
What can I do? I have learnt to accept and live with them.
But are you bitter?
No, on the contrary I feel blessed that I had so much love and blessings that it has helped me sail through the worst phases of my life. Initially, I felt like a punching bag, I would take it, but bounce back. Now I simply refuse to go down.
Any chances of calling it a truce with Shah Rukh Khan?
Where is the time to think about all that. But we are taught never to turn away anyone who comes to our doorstep.