Salman Khan inspires James Bond?
Aakansha Naval-Shetye (DNA; August 4, 2012)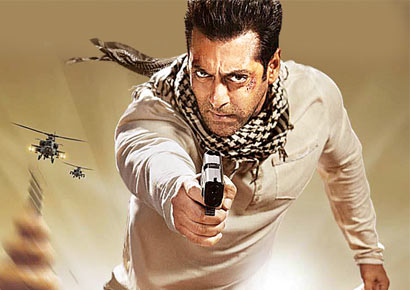 Salman Khan
While Bollywood filmmakers have often been inspired by their Hollywood counterparts when it comes to film storylines or sequences, seems like for a change it might just prove to be the other way around in the case of actor Salman Khan. According to sources, the new Daniel Craig starrer James Bond flick Skyfall has the Hollywood spy do a sequence very similar to the one that Salman has done in his desi spy thriller Ek Tha Tiger. Choreographed by Hollywood stunt director Conrad Palmisano — who is best known for films including the Rush Hour series, Rambo and Bourne series — the sequence sees Salman do a stunt form called Dirty Running, for which he apparently trained rigorously for over 45 days.
"Salman has taken special training in Dirty Running to perform a special stunt sequence in the film," confirms an insider. Talking about Dirty Running, the source reveals that it is a more advanced technique than Parkour, even though this too involves training in swift running, running through water, fighting in mud, fighting and running through difficult terrain and landscapes.
The source adds that the speciality about Dirty Running is that it trains one only in freehand combat. "No use of weapons is permitted in it at all, making the sequence a complete no weaponry sequence. Salman has trained in this rigorous form of physical training for around 45 days and will be seen performing this trained art in the film, where he plays a RAW agent," shares the source.