I wish Shah Rukh all the best-Salman Khan
Aakansha Naval-Shetye (DNA; July 31, 2012)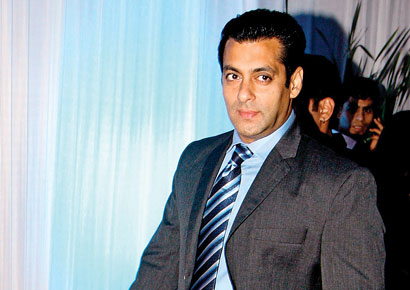 Salman Khan
It was exactly a year ago that actor Salman 'crore' Khan was gearing up for the release of his film Bodyguard. The film went on to become the highest opening day grosser ever till then before hitting the Rs100-crore mark.
It was also the time that the actor had to undergo surgery to treat the facial nerve disorder, trigeminal neuralgia, which the actor admitted to suffering for almost seven years. Today, as the actor gears up for the release of Ek Tha Tiger — his next post-Bodyguard — Salman reveals that he is finally off medication.
"I am happy to put that behind me, it was quite a pain in the face," he laughs. But what about rumours of him going for another surgery? "Who told you that? It's not true, I'm absolutely fine now," he insists.
So, is he looking forward to breaking many more records this time around with his upcoming action thriller? "Records I don't know of, but I hope the film does well. There's a lot of pressure." Pressure because of competition? "Not just that. I welcome competiton. The more the better. But the pressure is because my stardom affects 'Being Human' and I want to keep it up to be able to support that. Today success is valuable for me, as it ensures that I can help that many more people through my NGO," elaborates Salman.
But what about the competition then? "Well, there's a very strong and healthy competiton and it's only increasing. But I want everyone's films to do well… Aamir (Khan), Ajay (Devgn), Akshay (Kumar), Shah Rukh (Khan)…" Even Shah Rukh (considering the equation the two share)? "Well, I do want his films to do well… purely professionally… it's not just him. There are hundreds of people involved in a film and it's good when everyone makes money. So, I do wish Shah Rukh all the best," says Salman.
Awaiting the release of his own film Ek Tha Tiger this Eid, we point out that the festival has been lucky for him, "I hope this one will be no different," he says.
Last year, the actor was unable to fast during Ramzan due to his medical condition, but this time however, Salman has been observing the rozas. So what is it that he is praying for this time? "The same as always, happiness for all and to be at peace," says the actor.