Farooq Sheikh discharged from hospital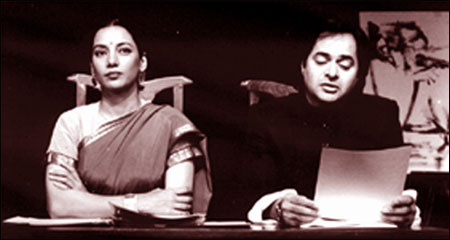 Bella Jaisinghani | TNN (THE TIMES OF INDIA; June 16, 2012)
Mumbai: Actor Farooq Shaikh (64) was discharged from Asian Heart Institute on Friday afternoon. The veteran of cinema and theatre has been advised bed rest even as he undergoes a series of investigative tests for lung infection.
"Shaikh is suffering a severe viral infection that has caused fluid to accumulate in his lungs and remains bedridden currently," said Feroz Abbas Khan, who directed Shaikh in the critically acclaimed play 'Tumhari Amrita'.
The current schedule marking the 20th anniversary of the play across Mumbai and Bangalore has been cancelled. "The shows were all sold out and Farooq Shaikh kept insisting he wanted to perform but his health did not permit it," Khan said.
Co-actor Shabana Azmi said, "Farooq had been complaining of stomach pain for the past few days but when it worsened he was rushed to hospital for a series of tests."
Playwright Javed Siddiqi welcomed his old friend back to the stage, recalling what a scare the team had undergone during the past two days.