Saif Ali Khan has no starry airs
Prachi Kadam (MID-DAY; June 6, 2012)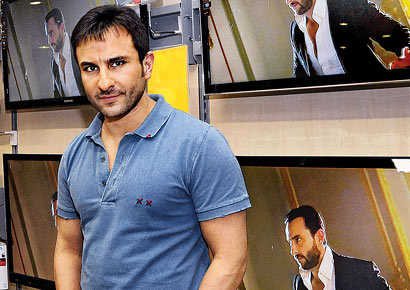 Saif Ali khan
Actor Saif Ali Khan, who hails from a royal family, is used to being given special treatment. But guess the actor is now tired of being treated as a star and having people running errands for him all the time. Which is probably why, Saif decided that he would avail no special facilities while shooting in London for his forthcoming film Cocktail, recently. This meant no car, chauffeur or spot boys, etc.
A source from the sets says, "The best part of being a star is the treatment that one gets as everyone around tries to meet the star's demands. However, while shooting in London, the crew was surprised to see Saif commuting by tube or taxi and struggling with his own shopping bags as he walked back into the hotel. He did this for his entire stay in London and thoroughly enjoyed himself living like a common man, just like his character in the film."
If insiders are to be believed, Saif loves to do things on his own. "He has been in a boarding school as a kid. And usually kids who grow up in boarding shcools always end up being more independent than others. So Saif doesn't wait for someone to do things for him. Instead he believes in doing it himself. He doesn't have any airs even though he comes from a royal background. He is completely grounded."
With Cocktail, the actor is going back to rom-coms that have been his forte. "Saif's suave yet mischievous persona works perfectly wellin movies that show the ups and downs that young people face in modern day relationships, be it Hum Tum, Dil Chahta Hai, Salaam Namaste or Love Aaj Kal," adds the source.