Bollywood is being redefined-Anurag Kashyap
Chaya Unnikrishnan (DNA; May 21, 2012)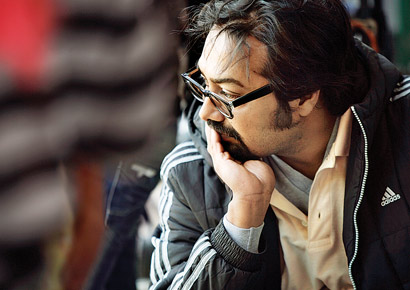 Anurag Kashyap
Uncoventional and non-conformist, filmmaker Anurag Kashyap has always treaded off the beaten track. From the award-winning Black Friday based on the 1993 bomb blasts in Mumbai to Dev D, the modern take on Devdas to the recent Gangs of Wasseypur that has been selected for screening at Cannes, the director has come a long way. Here he talks about cinema being redefined, unusual ways of film funding and more…
Q: For the first time a two-part film like Gangs Of Wasseypur from India is being screened at the Cannes Film Festival…
A: I didn't make the film for the festival circuit. It is actually a mainstream Indian film peppered with music. It's about the mafia in the coal mines of Dhanbad spanning six decades and three generations with a cast of 60 actors. It's based on real incidents and there is everything in it including romance, violence and humour. In fact, it is a very funny film and there is a lot of curiosity around it. We'll be showing the film on May 22, 24 and 25.
Q: Your journey in tinsel town hasn't been easy, but now that you are among the top directors, do you feel vindicated?
A: Yes, it was tough in the beginning. I wasn't considered a safe bet. I had to have a lot of conviction in what I was doing. Be it Black Friday or Dev D, I continued to do what I wanted to irrespective of the conditions that existed then. However, today things are different, the audience has changed and producers are willing to invest in films like Aamir, Shaitan, Michael, Aiyya, etc. Independent filmmakers who would have fallen by the wayside are getting a platform with producers backing films like The Forest, Love Wrinkle Free, etc. Bollywood itself is being redefined with films like Kahaani, Paan Singh Tomar and Vicky Donor becoming mainstream cinema.
Q: What are your views on censorship, considering even your films in the past have faced problems?
A: I think people in the Censor Board are educated and really liberated. The problem is, it is not an autonomous body. It is answerable to people within the government and various other bodies like the animal welfare board from whom one has to get permissions, etc. I'll probably go and fight in the right way if my film faces a problem.
Q: Do you think the presence of studios has helped filmmakers in a big way?
A: Studios have been helpful, but we are not dependent on them anymore. We are getting finance from outside. For instance, for Peddlers, the money was raised from a social networking site. We are also getting international producers to co-produce films with us.