Hits make you confident-John Abraham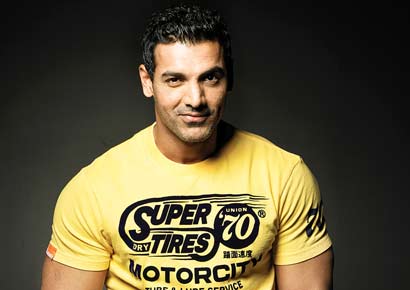 John Abraham
By Aakansha Naval-Shetye (DNA; April 9, 2012)
After much experimentation with roles, actor John Abraham finally seems to have found his comfort zone in action and comedy. On a hit-spree post-Force, it's hardly surprising to see that like the industry, the actor too has been taking his action avatar rather seriously, considering the high number of action films that he's doing of late — Race 2, Shootout At Wadala, Kala Ghoda… But ask John about it, and he says that it's not just to do with his hit action image. "I take my work seriously, be it comedy or action. In fact, I'm still game for other genres too. But yes, if the industry and my audience's have accepted my action image, well, I'd definitely take that further too," he says.
Talking about his recent successes, John does admit that hits do matter. "Hard-work makes you have faith in your ability, but hits give you the confidence!" he says. Explaining further he adds, "Hits give the actor the market sale-ability and credibility that one needs to continue to try and experiment whether as an actor or producer. And to gain that confidence, it's important to get that hit tag here."
As for choosing action over comedy, John says that there need not be a choice between the two. "You can do both, separately or together. Both have their own fun," says the actor, who's also excited about the response his recent release Housefull 2 has been garnering. John adds that it was heartening to see that both his action and comedy have hit home. "Yes, action is becoming a staple diet in my films, even comedies," he says. As for the item song he's done in his production debut Vicky Donor, he says that dancing is far more challenging than the most riskiest stunt. "Make me do an action item number any day over item songs for sure," he laughs. Meanwhile, buzz is also rife that the actor will apparently soon be seen sharing screen space with actor Shah Rukh Khan in filmmaker Farah Khan's Happy New Year.
Inching towards completing a decade in this industry, the actor feels that he's come a long way but has a longer way to go. "I've grown with every experience here, good and bad. And now, I'm also looking at expanding my horizons further. I'm already doing that as a producer." So, now is Hollywood next on the radar? "Well, I'm not Hollywood struck. I am certainly looking at a few projects but from a producer's point of view. So, we may be looking at a few scripts, but as an actor, it's not on my agenda for now," he says. "I feel that it's more important to find the acceptance here, that's the real high. That's not demeaning anyone who's working there, but for me personally, I don't see the need to have a Hollywood film on my list to make me feel good about my career," smiles John.