I was scared about playing Osama-Pradhuman Singh
Pradhuman Singh who played Osama in Tere bin Laden talks about his initial apprehension when he had to do the role, how he feels about Osama's death and other movies he will be part of
Priyanka Dasgupta | TNN (MUMBAI MIRROR.COM; May 03, 2011)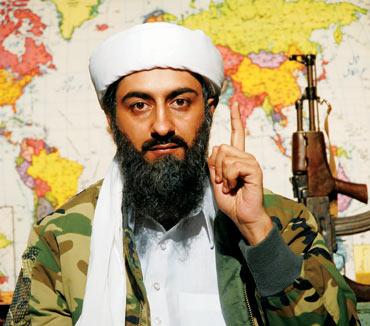 The joke was not on Osama.. but on the war on terror, says Pradhuman Singh, who played the fake Osama bin Laden in Tere Bin Laden. He says even though the film was banned in Pakistan, most people watched it online.
Having played the fake Osama in Tere Bin Laden, what's your reaction to the news of his death?
The battle has been going on for years. It was a battle between one country and a man. There has to be one winner and one loser. Now, it's certain that the US has won. But all said and done, no one can shove down our throat the views about one particular person. Nothing is in white and black. It's all grey. I am no one to judge whether Osama bin Laden's stance was right or not. I can only offer my congratulations to the US. Yet, I must all add that this whole war has been going on for far too long. It's not really worth it. There has been too much of infighting going on in Afghanistan.
So, many other countries, including Iraq, have faced the brunt of it all. Were you ever apprehensive about playing the character Noora in the film?
Initially, when I had not read the script, I was a bit apprehensive. I was wondering if it would be a biographical role. After all, Osama has been one of the most radical people in the world and also very important in world history. While some can hate this man, there are others who can and will love him too. When I read the script, I got over the fear. After all, I was playing an innocent poultry farmer. A lot of care was taken on getting my Osama look right. We were careful not to make fun of Osama. Instead, the joke was on the war on terror. I also read up a lot about him. I believe that 99.9% of the people who think Osama is a terrorist don't know much about why this person took such a stance. You see, history is written by winners and they are the ones to tag you as a revolutionary or a terrorist. If you win, the same person will become a revolutionary leader. But if the outcome is different, the same man will be branded differently.
Does the fact that he was killed in Abbottabad in Pakistan make any difference to you?
Osama was in hiding. He could have been anywhere in the world. Just because he has been killed there doesn't mean I will start hating Pakistan. He could have been hiding even in Kashmir, or any other place in the world. But does that mean I will start hating that place? There are reports of Dawood Ibrahim being in Dubai. But does that mean I will start hating Dubai? Of course not.
Your film has been banned in Pakistan. Any views on that?
I wished the film was not banned there. I had felt bad about it. We had Ali Zafar in the film and releasing our film in Pakistan would have been good for the people there. But, I suppose, there must have been some reason for banning it there. It could have been a fear of the reaction from the extremist groups. However, most people of Pakistan have watched the movie online. I've also sent original DVDs of the film to my friends there. Now, that Osama is no more, it makes no sense to want to release the film in Pakistan.
What next, after TBL?
I have written a film called Cocain. The script is with the producers. However, there are no drugs in the film. I've also done a film called Life Ki Toh Lag Gayee that has Kay Kay Menon and Ranvir Shorey. I am also doing a big banner comedy. It is a multi-starrer but I have been given strict instructions not to talk about it.